Douglas Denham St Pinnock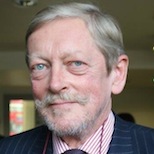 Douglas Denham St Pinnock
Pro Chancellor and Vice Chair
Douglas Denham St Pinnock graduated in Economics, History and Politics from University College, Durham University. In 1978 he became a founder member of the asset finance and fund management team established as a subsidiary of the leading international money broker, MW Marshall & Co. He became resident director of its Irish business at the age of 29 before returning to the UK to manage a large number of substantial local authority refinancing projects.
In 1988 Douglas established Owengate, a firm which arranges capital and asset finance for a wide variety of commercial and publicly funded clients. Owengate has arranged several large scale financings for UK universities, principally to finance or refinance student accommodation. In 2016 he established Nanogentech, a global green technology business, one of whose products saves circa 75% of the electricity consumed in cleansing waste water.
Douglas has served on a number of boards including Tullett & Tokyo International Securities Ltd, one of the world's largest money brokers, and is a Fellow of the Institute of Directors. He has lived virtually all his life in south London and became a Governor of LSBU in February 2012. He has served on the Audit Committee and has been the Chairman of the Major Projects and Investments Committee. He was appointed Vice Chair and Pro Chancellor in August 2017.