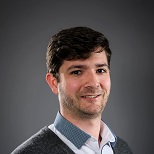 Devon Petrie
Lecturer, Baking Science and Technology
Devon Petrie is a lecturer at The National Bakery School, School of Applied Science. He specialises in Science of Fermentation and Food Research with interests in consumer habits, perception of food products and sustainable protein sources.
Devon is originally from Zimbabwe, where he studied culinary training until 2005. He then moved to UK and completed his Diploma in food retail and started his own company in the West of London in 2007. This ranged from large corporate to VIP catering events in the area, bespoke baked products and an online retail shop specalising in Mediterranean products for 9 years.
In 2013, Devon enrolled at The National Bakery School, to gain further practical and theory knowledge to grow his company; where he graduated Top of his class. Devon continued with his studies obtaining a Post Graduate in Academic Practice and is currently writing his Ph.D in Food Science, looking at Alternative ways to feed the nation through viable proteins sources (mainly insects).
Devon teaches on and is responsible for the following modules on the Baking Science and Technology course:
Research Methodology
Advance Research Methodology including Statistics
Bakery Innovation Dissertation /Project
International Food Science and Technology
British Society of Bakers
Royal Entomophagy Society
Higher Education Academy
Alliance of Bakers, Students and Trainees
Worshipful Company of Bakers
Worshipful Company of Bakers – Liveryman
City of London – Freeman
Executive Committee Member to British Society of Bakers
Chairman to Bakers under Forties Society (Worshipful Company of Bakers)
Freelance writer to Baking Europe