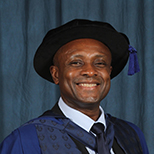 Derrick Anderson CBE
Honorary Fellow
As Chief Executive of Lambeth Council, Derrick Anderson oversaw its transformation from what had been labelled London's worst council, earning himself the award of Guardian Public Leader of the Year for 2012.
Born in East London to a Cuban immigrant mother, Derrick gained a degree in psychology and a Master's in social work before starting his career working with disadvantaged young people. He first made the move into local government when Wakefield Council invited him to head up their cultural services team. He then moved to the Midlands, becoming chief executive of Wolverhampton City Council, and then to Lambeth, where he took over as Chief Executive in 2006.
The ailing council had been given a two-star rating by the Audit Commission, then downgraded again following an assessment of its cultural work. It was, officially, the worst council in London. Derrick set about working to break down hierarchies and barriers, and build strong, dynamic teams. Derrick dismantled the chief officers' management team and set up a 200-strong leaders' network responsible for driving the organisation day-to-day.
Despite considerable pressure to cut costs, feedback from residents showed that under Derrick's leadership, the council actually delivered better value year on year. In 2012, its children's services were rated 'Outstanding' and Derrick himself was named Public Leader of the Year by the Guardian.
Since stepping down from Lambeth in 2014, Derrick has been focusing on helping social endeavours identify alternative sources of funding. He also sits on the Council of the University of Birmingham, and works with aid and development organisations in southern Africa and the Caribbean. Derrick was awarded a CBE for services to local government in January 2003, and holds honorary degrees from Staffordshire University and from the University of Birmingham.