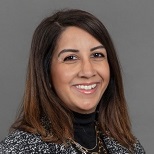 Deepa Shah
Independent Governor
Deepa is a multi-award winning Chief Financial Officer and entrepreneur. She is a senior leader, with 20 years' experience working for fast growth global businesses within marketing services, creative communications, and technology. Deepa is a trusted business partner, who can advise and support dynamic businesses with their operational management, strategy, and growth. Deepa brings external thinking and fresh perspective to organisations. These are demonstrated by her growth mindset, courage, determination, creativity, and willingness to experiment and learn.
Deepa has been recognised for the contribution she has made to business throughout her career to date, and has won the following awards:
Winner - Technology CFO of the Year 2020 (London) – Acquisition International Magazine
Winner - CFO of the Year 2018 – Women in Finance Awards (UK)
Winner - Asian Women of Achievement Awards 2016 – 'Business' category
Following a successful career across agencies within the largest global advertising holding groups, Deepa launched her business, Lab Eight, in 2020. Lab Eight specialises in growth support and business strategy, working with independent agencies ranging from healthcare, market research and insights, to technology.
Beyond the technical excellence you would expect, Deepa is open, curious, and empathetic. Her ability to debate key human issues, and her perseverance to drive lasting change to make a positive difference in people's lives demonstrates a much deeper commitment to the social change agenda.
Deepa has been actively driving the diversity, equity and inclusion conversation forward in the creative services industry. In particular, she is passionate about improving the representation of Black, Asian and Ethnic Minority talent within the industry, as well as helping more women progress into senior positions.
During her time at Publicis Groupe, Deepa was the Chairwoman of the VivaWomen! Board. VivaWomen! Is an employee-led Gender Equality community, which focuses on raising awareness of gender inequality, supports women to develop skills to better their own outcomes, and in turn builds confidence within the workplace for everyone.
Deepa is an active mentor and supports The British Library and NatWest in an official business mentoring capacity.