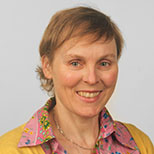 Dawn Ingleson
Course Director, Drama and Applied Theatre; Senior Lecturer
Arts and Creative Industries / Arts and Performance
Dawn Ingleson is a lecturer in Drama in the School of Arts and Creative Industries. She has previously taught on a range of BA, MA and PGCE courses in theatre, writing, education and children's literature. She has worked in theatre and education.
Dawn has directed, produced and project-managed extensively in Britain and internationally. As the National Theatre Mobile Tours Producer, she specialised in producing mid-scale UK tours of twentieth century plays, focusing on Brecht with actor-musician companies. She produced the National Theatre's UK tours of Brecht's 'The Threepenny Opera', in an updated version by Anthony Meech with lyrics by Jeremy Sams. She also produced Frank McGuiness' updated version of 'The Caucasian Chalk Circle' with Filter Theatre.
She has also commissioned and produced work for young audiences from playwrights including Roy Williams, Rebecca Lenkiewicz, Leo Butler, and Tim Crouch, and has produced work for schools in Japan for the Setagaya Public Theatre as well as the UK. She directed, updated and developed a London version of 'The Stones', originally written and performed by Australia's Zeal Theatre for a National Theatre schools tour that has been retoured twice.
Her interests lie in participatory theatre, the relationship between the audience and the performer, performative storytelling for young audiences, and Theatre-In-Education. She has recently worked as Head of Learning at Discover Children's Story Centre, and is currently researching and developing a participatory theatre piece to support conflictive resolution for KS2 children.
Dawn is a qualified teacher and has trained teachers and performers in many different capacities throughout her career to date. More recently she has been running sessions on using drama and performance to support children's literacy learning, and before that she was Education Manager for the National Theatre's production of War Horse. In this role she co-devised and ran student/teacher and actor/puppeteer training sessions in London, New York and Toronto.
She has guest lectured at Goldsmiths College, London in drama and also, for the past two years, on the MA Writer/Teacher course and on the new MA Children's Literature course.
Module Coordinator for:
Level 4: Performance Histories, Theatre Workshop, Acting the Text, Workshop in Development
Level 5: Collaborative Community Theatre Project, Placement
Level 6: Applied Theatre, Theatre as Social Activism
Dawn also teaches on:
Level 5: Critical Frameworks, Text and Performance
Level 6: Independent Performance Project, Research Project
Level 7: Creative Practical Project (MA Creative Performance Practice)
Dawn has created a participatory theatre and conflict resolution for primary school children, focusing on immersive and forum theatre with KS2 children attending a Saturday School in South London. This work includes conflict resolution theories, Philosophy for Children, and aspects of invisible and forum theatre, as well as using a strong narrative and promenade theatre. It is also investigating young audience choice and abilities, and willingness to make choices in certain given situations.
She is also researching mindful teaching and learning and mindful theatre practice.
Fellow of Higher Education Academy (FHEA)
Fellow of Royal Society of Arts (FRSA)