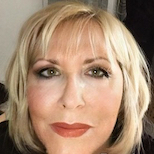 Darlene Lamont
Senior Lecturer
Health and Social Care / Primary and Social Care
Darlene Lamont in the School of Health and Social Care has an interest in politics, social policy, domestic abuse, equalities and health & safety. She obtained qualifications in Criminal Justice and Social work both internationally and in the UK. She has had a Social Work career in the UK since 1981 and currently teaches Social Policy and Readiness for Direct Practice to Masters students.
Darlene currently teaches skills to new students on the Readiness for Direct Practice module who are preparing to start their first practice placement. She also teaches social policy to Masters students.
Registered Social Worker with Social Work England
Until recently Darlene volunteered in the community as a carer for an older person with physical disabilities; a backup Foster Carer; and bid writer for Charitable organisations.
Darlene had a cameo role in a recent UK Hip Hop video and has lead music and poetry groups in maximum security prisons.