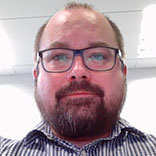 Danny Clegg
Senior Lecturer
Health and Social Care / Allied Health Sciences
Danny Clegg is a Senior Lecturer in the Department of Allied Health Sciences, in the School of Health and Social Care.

He specialises in undergraduate and postgraduate education in areas of Chiropractic, Rheumatology, Pain Management and Technology Enhanced Learning. He has a keen interest in creating new ways to teach, assess, and enhance the student experience, through the use of technology.

He is also an active researcher in the field of technology enhanced learning, predominantly for student on healthcare programmes. He has presented research and innovation platform series at conferences and events across Europe.

He is also highly active in Equality and Diversity, and is the interim Chairman of the Disability Network at LSBU.

Prior to joining LSBU in July 2019, he worked as a Senior Lecturer at a UK University, where he developed the skills to educate at University level, and was the recipient of the best lecturer award during his time there.

He is also a Senior Fellow of the Higher Education Academy.
General Chiropractic Council