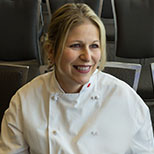 Cristiana Solinas
Lecturer, National Bakery School
Applied Sciences / National Bakery School
Cristiana Solinas is a lecturer at the National Bakery School at LSBU, where she teaches the Bread and Baking Science module and collaborates with the delivery of the Confectionery module.

Native from Savona (Italy), Cristiana received all her culinary training in Canada and the USA. In 2009 she graduated from the Culinary Arts program at the Thompson Rivers University in Kamloops, British Columbia and obtained the Red Seal for Chef de Cuisine in 2012. In 2015, she graduated from the L'Art de la Patisserie Program at the French Pastry School in Chicago, Illinois, obtaining a major in French pastry. Several specialisation courses at The San Francisco Baking Institute in San Francisco, California and at The Chocolate Academy in Montreal, Quebec, complete her education in the field.
Cristiana has won the "Innovation in Teaching" award at the LSBU Staff Conference, in June 2019.

After opening and running successfully her own café and bistro, in Kamloops, British Columbia, for five years, Cristiana decided to embrace the career in education that brought her to teach Pastry and Baking Arts at the Thompson Rivers University, in Kamloops, BC, first, and at Le Cordon Bleu Culinary Institute in Ottawa, Ontario, later. The decision of relocating back to Europe brought her to London and the National Bakery School.

Cristiana has a deep knowledge and passion for the culinary industry together with empathetic communication skills and the ability to build caring relationships with her students, at any age. Her inspirational leadership and genuine approach are perfect to deliver interesting and fun classes for every level of baking and pastry experience.