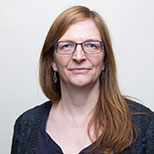 Clare Beanlands
Senior Lecturer in Occupational Therapy
Health and Social Care / Allied Health Sciences
Clare Beanlands is the course director for the post-registration MSc Occupational Therapy (Top-up). She is also the CPPD lead for occupational therapy and a senior lecturer on the Pre-registration MSc/PgDip and BSc occupational therapy courses. Clare has an
interest in student learning, particularly the use of blended learning, and students' experiences of learning during their practice placements.
Clare joined LSBU in 2004 after 19 years of practising as an occupational therapist in the NHS, mainly working in long-term neurological and musculoskeletal settings. Her final NHS post was head of department at the Royal London Hospital with a clinical specialism in rheumatology.
Clare's current interests are in qualitative research, the use of outcome measures, clinical reasoning, and the biomedical sciences in relation to occupational performance. Clare re-conceptualised the delivery of the biomedical teaching on the pre-registration
MSc/PgDip programme and developed a more blended approach involving the use of a 'flipped classroom' (online lectures followed by practical 'hands-on' workshops). She co-ordinates the occupational therapy team's CPPD provision including the development of
several study days in response to the needs identified by occupational therapy practitioners.
Clare's teaching interest include:
Outcome measurement
Qualitative research
Biomedical sciences (particularly upper and lower limb anatomy)
Reflection and clinical reasoning
Practical skills – splinting, wheelchairs, mobility and environment, upper limb assessment
Clare is completing a PhD in Health Studies. She is exploring occupational therapy students' experiences of professional reasoning during their practice placements drawing on dialogical analysis (Bakhtin).
She is a member of the Allied Health and Risk Resilience and Expert Decision Making research groups.
She is involved in a HEE funded project on advanced practice in the allied health professions.
Registered with Health and Care Professions Council
Member of the British Association of Occupational Therapists
Fellow of the Higher Education Academy
HEI representative on the RCOT London Region Committee