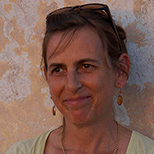 Clare Bayley
Sessional Lecturer CWP
Arts and Creative Industries / Creative Technologies
Clare Bayley teaches Creative Writing and Drama. She is an award-winning playwright for stage, radio, film and is currently developing an original TV drama. Clare graduated from Cambridge University, then studied for an MA in playwriting at Birmingham University with David Edgar, where she wrote her first play Northern Lights. She is co-author of Playwriting: A Writers' and Artists' Companion (Bloomsbury) which will be published in October 2015.
Clare has been teaching Creative Writing at LSBU since 2011. She mentors Writing for Stage and Broadcast Media MFA and MA students at the Central School of Speech and Drama and is a fellow of the Higher Education Academy.
Clare's most recent play Blue Sky was developed at the National Theatre Studio and produced at Hampstead Downstairs, directed by Elizabeth Freestone. Her award-winning play The Container has been performed in containers in Edinburgh, London, Cardiff, Baltimore USA, Melbourne Australia and Toronto Canada. Clare is currently writing a film adaptation of the play for Breakneck Productions. Her English version of The Enchantment was directed at the National Theatre, Cottesloe by Paul Miller. She also scripted a number of devised plays, including The Shift and Blavatsky with Andy Lavender (Young Vic Studio) and the promenade play The Woman Who Swallowed a Pin with Deborah Bruce. Clare has written a number of radio plays for the BBC (including The Bringer of Sweets, The Secret Place, Portobello Beach and adaptations of her stage plays).
Current projects:
Screenplay of The Container for Breakneck Productions.
The Protectors, one act play for Metta Theatre's production Mouthfull, to be performed 2015.
Tess Maguire, three part original TV drama, in development with Absolutely Productions