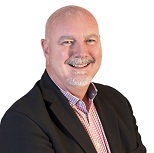 Christopher Matthews
Associate Head of Division Business and Enterprise
Business / Business and Enterprise
Chris Matthews is a Senior Lecturer and Head of the Business and Enterprise Division. Based in LBSU Business School. Prior to joining South Bank, Chris was a Senior Lecturer in Strategy and Business Skills, and Course Leader for Global Business MBA at Coventry University London Campus.
Chris gained his MBA from the University of Hertfordshire in 1991.
Prior to moving into Business, Leadership and Management education Chris enjoyed a successful 35 year career creating, developing and running successful multi-national, leading edge technology businesses, managing operations in the USA, Europe and the Middle East. Chris specialises in developing start up companies and preparing organisations for IPO.
Chris has extensive public sector experience, having also served as a non-executive director for an NHS Acute trust for 8 years, where Chris chaired the Governance Committee, and served as a business governor for his local FE College.
Chris is a qualified teacher and level 7 Executive Coach and Leadership Mentor, his teaching is based on the application of knowledge and learning through action and activity by empowering learners to develop their own solutions. He has extensive experience of teaching a variety of undergraduate, postgraduate and executive courses in the areas of Strategy, Leadership & Management, Business Skills, Advanced Professional and Employability Skills, Organisational Behaviour, Project Management and Coaching & Mentoring.
Chris uses his commercial experience to develop and deliver business education and training ranging from under graduate and post graduate degrees to bespoke one-day short courses, thru CMI and ILM accredited level 2, 3, 5 & 7 courses.
Having introduced blended learning delivery into the MBA Curriculum at Coventry University Chris' research interests are in the areas of the effects of technology and simulation based learning on the student experience, and the provision of business and enterprise education for the family business.