Christine Peterson-McKinney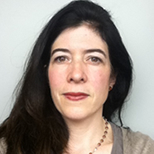 Christine Peterson-McKinney
Senior Lecturer - Occupational Therapy
Health and Social Care / Allied Health Sciences
Christine earned her MSc in Occupational Therapy in the US and practiced both there and in the UK before joining the teaching team at LSBU in 2005. Her work experience is mainly in acute CVA and neurological rehabilitation for head injury, CVA and spinal cord injury.
Christine has experience in teaching the following topics to occupational therapy students:
Anatomy
Developmental psychology
Neurological conditions (physical & cognitive) and treatment
Intervention planning with special interest in paediatrics
Visual impairments and the OT's role
Her research interests are visual impairments and the OT role, the impact of urinary incontinence on quality of life, and how and why OT university students with dyslexia use strategies for study.