Christine Peterson-McKinney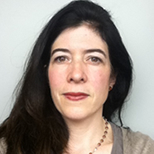 Christine Peterson-McKinney
Senior Lecturer - Occupational Therapy
Health and Social Care / Allied Health Sciences
Christine has been a Senior Lecturer in Occupational Therapy in the School of Health and Social Care since 2005. She completed a Postgraduate Certificate in Teaching and Learning in Higher Education at LSBU in 2011.
Christine has previously worked as a clinician in acute and rehabilitation services based with inpatient and outpatient settings. These include the clinical areas of acute stroke, stroke rehabilitation, spinal cord rehabilitation, head injury rehabilitation, hands therapy, burns, and paediatrics. This includes working in both the United Kingdom and USA.
Christine received a BSc in Psychology from the State University of New York at Geneseo in 1993. In 1997, she earned an MSc in Occupational Therapy from the Programme in Occupational Therapy at Washington University School of Medicine, St Louis Missouri. Her MSc thesis explored the impact of urinary incontinence on the quality of life of the elderly population.
Christine teaches on the MSc and BSc Programmes in Occupational Therapy, concentrating on the topics of paediatrics, neurology, vision and PBL.
Her research interests are visual impairments and the OT role, the impact of urinary incontinence on quality of life, and how and why OT university students with dyslexia use strategies for study.