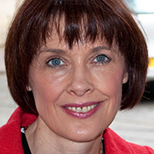 Cherry James
Senior Lecturer, LLB Year 2 Director of Studies
Law and Social Sciences / Law
Cherry James is a Senior Lecturer in the Law Department, where she is the module leader of 3ls (Legal Skills, Legal Study, Legal Systems) and also runs the Foundation Programme for Year 1 LLB students.
Cherry is the Erasmus co-ordinator in the Law Division - a point of contact for Erasmus and study abroad students. Her particular interests are the English Legal System, the first year student experience, student mobility, the internationalisation of higher education, and European Law. She has delivered conference papers and published journal articles on these topics.
Before joining LSBU, Cherry taught with the Open University in 2006. She is a qualified Solicitor and worked for a number of years in Commercial Litigation in large City law firms.
Cherry holds an MA in Classics from Oxford University, an LLM from University College London, and a PGCHE from LSBU. She is a Senior Fellow of the Higher Education Academy. In 2017 she was awarded a PhD from Birkbeck, University of London, on the contribution of Erasmus Student Mobility to EU citizenship. Her PhD thesis formed the basis of her book 'Citizenship, Nation-building and Identity in the EU: The Contribution of Erasmus Student Mobility' published by Routledge in 2019.
Level 4 (Year 1)
Foundation Programme

Legal Skills, Legal Study, Legal Systems ("3l's") (Module Co-ordinator), Public and EU law
Level 5 (Year 2)
Level 6 (Year 3)
European Criminal and Migration Law (joint Module Co-ordinator)
Cherry's PhD researched Erasmus student mobility and its contribution to EU citizenship. Student mobility and EU higher education are her main research interests, more recently alongside the impact of Brexit on EU law teaching and UK-EU student mobility. She has spoken at conferences and published on these topics.