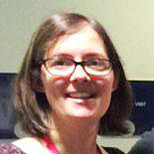 Catherine Hewitt
Senior Lecturer
Health and Social Care / Children's Nursing
Catherine is a Senior Lecturer in Children's Nursing in the School of Health and Social Care. Catherine has been a registered children's nurse since 2003. Since this time her clinical experience has mainly focused on the care of the critically ill child, this experience has been gained at Birmingham Children's Hospital. Catherine was a clinical educator within Paediatric Intensive Care (PICU) for 3 years prior to joining LSBU in February 2014.
Catherine has a Masters in Education, is a registered nurse teacher with the Nursing and Midwifery Council (NMC) and is Fellow of the Higher Education Authority.
During Catherine's clinical experience she was the facilitator for providing a variety of education to nurses and the multidisciplinary team.
At LSBU Catherine is the module leader for 'Care of the acutely ill child' (pre-registration) and 'Management of the high dependency child' (post-registration).
Catherine also teaches on the following modules:
Life Science and Medicine Management
Complex and High Dependency
Acute and Complex Care of Children
Pharmacology and Medicine Management
Practice Skills for Nursing
Catherine is a member of:
Royal College of Nursing (RCN)
Paediatric Intensive Care Society
Higher Education Academy