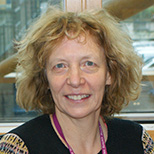 Catherine Evans
Senior Lecturer, Director of the LSBU Legal Advice Clinic
Law and Social Sciences / Law
Catherine Evans, Solicitor and Director of the Legal Advice Clinic, joined the University in 2015, previously having worked as the Legal Director of Southwark Law Centre. She trained at TV Edwards Solicitors and then moved on to Mary Ward Legal Centre in Central London.
Catherine is a housing law specialist and is well known for her work in the complex areas of migrant housing law and human rights and, in particular, her coordination of the housing and immigration group (HIG). HIG is a national network established by members of Immigration Law Practitioners' Association and Housing Law Practitioners' Association to exchange information about housing and welfare issues affecting asylum-seekers and other people from abroad. HIG members are experts in this field and have acted in most of the leading cases in the area including the case of R. (Adam and Limbuela) v. Secretary of State for the Home Department, 3 November 2015.
With respect to Southwark Law Centre, Catherine was instrumental in building the reputation of the Centre for providing a high quality legal service; the immigration team is highly regarded, as is the housing law department. Catherine brings the professional expertise of running a Law Centre to the Legal Advice Clinic, where students provide free legal advice in social welfare law under the supervision of experienced lawyers. Of particular interest is the teaching of law and legal advice skills in the context of the legal advice clinic as a "Living Curriculum".