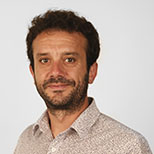 Carlos Gonzalo
Senior Lecturer in Civil Engineering
Built Environment and Architecture / Civil and Building Services Engineering
Carlos Gonzalo is a Senior lecturer in both Civil and Building Services Engineering of the School of Built Environment and Architecture. He specialises in Sustainable Engineering and Renewable Energy Technologies although he is currently researching in fire safety for cladding systems. He is also Apprenticeship Academic Lead for the School of Built Environment and Architecture.
Mathematics for Civil Engineering (BSc and HNC)
Sustainable Construction and Forensic Engineering for Civil Engineering (BSc)
Renewable Energy Technologies for Building Services Engineering (MSc)
Improving the Fire Resistance of Ventilated Cladding Systems via Air Cavity Replacement
This is a theoretical paper already holding a patent file. The proposal is as follows: to inhibit the progression of fire through the air cavities provided in ventilated cladding systems is presented. The proposed system comprises of strips of intumescent material around the back face of the cladding panel that expand when approached by a fire, thus sealing off a portion of the cavity. Carbon dioxide, contained in a vessel attached to the cladding panel, is then released into the cavity, thus restricting the supply of oxygen to the fire.
Associate Fellow of Higher Education Academy.