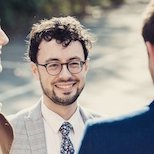 Cameron Giles
Undergraduate Year 1 Director of Studies
Law and Social Sciences / Law
Dr Cameron Giles Is a Lecturer in the Law Division, School of Law and Social Sciences. His main academic specialism is in criminal law, particularly the law on sexual offences and sentencing, as well as on LGBTQ+ issues in law.

Cameron completed his undergraduate degree in Law at Northumbria University and was called to the Bar by the Inner Temple in 2016. He then went on to undertake an LLM in Legal and Political Theory at the University of York before returning to Northumbria to complete a PhD titled "Deception and Disclosure: A Socio-Legal Analysis of HIV Transmission Offences and Mobile Dating Applications".

Cameron joined LSBU in 2020 and teaches across multiple modules within the Law Division. He is also Course Director for the LLB Law with Criminology degree.
Cameron teaches on multiple undergraduate Law modules including:
Criminal Law 1
Introduction to Contract and Tort
Law of Torts
Criminal Law 2: Criminal Law and the Law of Criminal Evidence
Cameron also supervises students taking The Law Project and The Law Combined Project, as well as projects on the Postgraduate Diploma in Law.
Cameron's research focuses on issues relating to criminal law, law and sexuality, and sentencing and the punishment of offenders. Cameron has written multiple academic and non-academic pieces based on his research, addressing the role of digital evidence in HIV transmission cases, online LBGTQ identities and the punishment of offenders in STI transmission cases. In addition to several conference papers, Cameron has previously presented invited talks at Northumbria University and UCL and appeared on The Diversity in Research Podcast.
Cameron is an Assistant Editor for the International Journal of Gender, Sexuality and the Law.