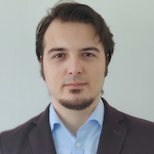 Bugra Alkan
Lecturer in Artificial Intelligence and Secure Systems
Engineering / Computer Science and Informatics
Bugra Alkan is a Lecturer in Artificial Intelligence and Secure Systems in the Division of Computer Science and Informatics, School of Engineering. He obtained his PhD degree in Engineering (2019, Intelligent Systems) from the University of Warwick under the supervision of Prof Robert Harrison, and his M.Sc. degree in Mechanical Engineering (2012, Robotics) from Izmir Institute of Technology under the supervision of Prof. M. I. Can Dede.
Prior to joining LSBU, he was a post-doctoral research fellow in the Computer Science Department at the University of Bristol, UK. Dr Alkan's research focuses on developing methodologies that enable the creation of robust, self-adaptive and self-optimised cyber-physical production systems; especially focusing on: management of system complexity, changes and disturbances in complex production systems, system-of-systems engineering, Industry 4.0, intelligent manufacturing processes and systems, bio-intelligent and bio-inspired manufacturing, industrial robotics, distributed production systems, digital factories, modelling and optimisation of production processes and supply chains, sustainable manufacturing, production planning and control, machine learning techniques, ANNs, hybrid AI techniques and their technical and business applications.
Dr Alkan has worked as a researcher on several internationally teamed scientific projects, including Knowledge-Driven Configurable Manufacturing (KDCM) and Thales-Bristol Partnership in Hybrid Autonomous Systems Engineering (TB-PHASE), in collaboration with manufacturers from aerospace, automotive and defence industries. He is a member of the Institute of Electrical and Electronics Engineers (IEEE). He has authored and co-authored several peer-reviewed academic journal articles and conference proceedings, and achieved awards, such as: Best Paper Award from CIRP Conference on Assembly Systems and Technologies held in Gothenburg, Sweden, 2016.
Dr Alkan's primary teaching areas are Artificial Intelligence, Robotics, and Statistics. Currently, he is taking roles in supporting modules, such as: Artificial Intelligence, Data Structures and Algorithms, and Systems and Cyber-Security. Dr Alkan is actively involved in supervising both MSc and PhD students in the following fields: applied artificial intelligence, operations research, system-of-systems engineering, design and deployment of smart factories, development of end-to-end big data analytics solutions for industrial applications, and design optimisation through novel meta-heuristics algorithms.
Dr Alkan's has been actively conducting research work on the following topics:
Manufacturing Systems
Intelligent Manufacturing and Industry 4.0
Industrial Robotics and Factory Informatics
Cyber-Physical Systems and System-of-systems Engineering
Machine Learning-based Process Quality Control
Evolutionary Optimisation Algorithms and Multi-Disciplinary/Objective Product Design Optimisation
Multi-Criteria Decision-Making (MCDM) and Decision-Support Systems
Selected recent publications
Chinnathai, MK, Alkan, B, and Harrison, R (2021). A Novel Data-driven Approach to Support Decision-Making during Production Scale-up of Assembly Systems. Journal of Manufacturing Systems.
Yao, F, Alkan, B, Ahmad, B and Harrison, R (2020). Improving just-in-time delivery performance of IoT-enabled flexible manufacturing systems with AGV based material transportation. Sensors (Switzerland). 20 (21), pp. 1-25
Alkan, B. and Bullock, S. (2020). Assessing operational complexity of manufacturing systems based on algorithmic complexity of key performance indicator time-series. Journal of the Operational Research Society.
Alkan, B. and Harrison, R. (2019). A virtual engineering-based approach to verify structural complexity of component-based automation systems in early design phase. Journal of Manufacturing Systems. 53, pp. 18-31
Assad, F, Alkan, B, Chinnathai, MK, Ahmad, MH, Rushforth, EJ and Harrison, R (2019). A framework to predict energy related key performance indicators of manufacturing systems at early design phase. Procedia CIRP. 81, pp. 145-150.
Dr Alkan is a member of the Institute of Electrical and Electronics Engineers (IEEE) and IEEE Systems, Man, and Cybernetics Society.