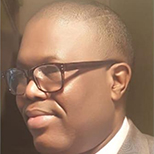 Bert Ediale Young
Senior Lecturer and Courses Director for PgD/MSc Quantity Surveying
Built Environment and Architecture / Construction, Property and Surveying
Bert Ediale Young joined London South Bank University (LSBU) as a Senior Lecturer in Quantity Surveying in the School of Built Environment and Architecture (BEA) in January 2017. He is currently the Course Director for the PgD/MSc Quantity Surveying and teaches on our PgD/MSc Quantity Surveying courses, as well as the BSc (Hons) courses in BEA. Prior to joining LSBU, Bert has a wealth of experience as a Director of Quantity Surveying and as a Senior Cost Manager both locally and internationally with clients and contracting organisations. Bert's area of expertise is in Quantity Surveying and Construction Project Management whilst specialising in: measurement of construction work, construction project management & estimating, pre and post contract planning and procedures, construction economics and teaching and learning in higher education.
Bert is a Fellow of the higher education academy (FHEA). Bert is the module leader and also teaches on the following module;
Advanced measurement and documentation at postgraduate level
Measurement, documentation and estimating at postgraduate level
Measurement 1 and documentation at undergraduate level
Advanced measurement at undergraduate level
Quantity surveying project at undergraduate
Currently, Bert's research interests involve Construction Innovation and Diffusion of Innovation (DoI) in Construction, Modern Methods of Construction (MMC), Offsite Technologies and Modern Flying Factories (MFFs), Fire in high rise buildings and Health and safety in Construction. Bert also supervises post graduate and undergraduate students research and dissertation work.
Bert is a Fellow of the Higher Education Academy (FHEA) and Member of the Association of Researchers in Construction Management (ARCOM).
Bert is a teaching fellow in University college Jersey and an external moderator for the British University in Egypt.