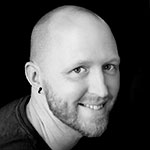 Ben Clarke
Lecturer in Engineering Product Design
Engineering / Mechanical Engineering and Design
Ben is an alumnus of LSBU having graduated with First Class Honours in Engineering Product Design.
During his studies Ben joined the design team of RolleyGolf Limited where he was tasked with redesigning components for mass manufacture. He also undertook the task of a comprehensive rebrand of the company. Through his hardworking ethic Ben was promoted to Head of Operations and ultimately Associate Advisor to the Board.
Ben has extensive work experience in the fields of design and engineering, undertaking a multitude of projects in a wide variety of design areas at companies such as Anderson Sinclair Design, Robert Webster Furniture and Drive Daddy. His primary function in these organisations was the design and installation of bespoke products for luxury household interiors and small electric vehicles. Some key aspects of Ben's design and manufacturing work have included:
Exhibitions stand building – Ben designed and built the exhibition stand for Anderson Sinclair Design and Sound Art at Grand Designs Live 2007 at London Excel.
Restorative Painting and Decorating – Ben was sub-contracted by Clough Harris to work on high end decorating projects, including (in 2004) HRH Queen Elizabeth's bedroom and bathroom at Windsor Castle, and (in 2005) The Sultan of Oman's personal residence in London.
Cabinetry – Ben was part of a sub-contracted team that worked with Kaizen Furniture. With them he worked on the production of large pocket doors and architrave fitting for Flavio Briatore's London Residence (in 2007). He also worked on many elements of the restaurant fit out of Sake No Hana in St James London (in 2007), where, most notably, Ben built the glass wrapped reception desk.
Ben is a member of the Institute of Engineering Designers.