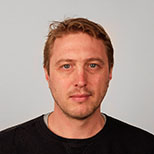 Barney Townsend
Senior Lecturer - BSc (Hons) Engineering Product Design
Engineering / Mechanical Engineering and Design
Barney comes from a background in Engineering Product Design, followed by an MSc in Enterprise. He has previously worked in the design of Kite Surfing Equipment, and Medical Devices.
He teaches on number of modules across the Design and Engineering courses at LSBU, at both undergraduate and postgraduate level, specialising in design methods and practices that include creativity techniques, user research methods, innovation, CAD, model making, and prototyping (both digital and physical).
Barney's current teaching includes:
Level 4 (Year 1):
Design Thinking and Practice 1
Design Communications and Computing 1
Level 5 (Year 2):
Design Thinking and Practice 2
Design Communications and Computing 2
Level 6 (Year 4):
Portfolio Engineering Projects
Design Project (personal tutor for student major projects)
Level 7 (Masters):
Design, Analysis and Manufacture
Barney conducts practice-based design research through his PhD in the Innovation Design Engineering Department of the Royal College of Art, supervised by Professor Ranulph Glanville and Neil Barron.
In the context of the Maker Movement, lines are blurring between amateur and professional designers, craftsmen, makers, and hobbyists; Barney's primary research interest is in the intersection between digital and physical methods of form creation, with a view to enabling user innovation through more intuitive interfaces. He is exploring tangible computing as a means for developing novel CAD interfaces that bridge the gap between the digital and physical agency of a concept during the design process, with a view to enriching the value of the resultant (digitally manufactured) outcome.
Barney is registered with the Engineering Council as Incorporated Engineer (IEng), and a full member the Institution of Engineering Designers (MIED).
He is also a Senior Fellow of the Higher Education Authority (SFHEA).
In his free time, Barney is an active member of the British Paramotor Team, competing at national and international events regularly. He recently placed 13th in the 2014 World Paramotor Championships.