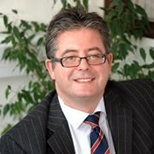 Anthony McGrath
Head of Adult & Midwifery
Health and Social Care / Adult Nursing and Midwifery
In October 2014 Anthony McGrath joined London South Bank University (LSBU).
Anthony qualified initially as an RMN in 1986 and then as an RGN at St Mary's Hospital Paddington in 1989. He has worked in a wide range of specialties which have included Cardiac Nursing, Accident and Emergency (A&E) Nursing, Military Nursing, Trauma Care, Respiratory Care, HIV and Gastrointestinal Nursing.
Anthony completed his BA (Hons) in Social Sciences in 1992 and his PGCE in Nursing Education in 1993.
Anthony took up his first academic appointment at City University London in 1994, teaching on the Adult Nursing programme. He then went on to complete his MSc in Nursing and Interprofessional Studies here at London South Bank University in 1997.
During his academic career his posts have included Senior Lecturer in Nursing at Middlesex University, Senior Lecturer in Advanced Practice and Principal Lecturer in Colorectal Nursing and Advance Practice at City University London, Acting Head of Department Adult Nursing at City University, Principal Lecturer Advanced Practice at the University of Bedfordshire, Acting Head of Department Acute Health Care and Acting Head of Department Clinical Education and Leadership at the University of Bedfordshire.
Alongside his academic career Anthony is also a Lieutenant Colonel in the reserve forces and has utilised his nursing skills whilst working in British and American military hospitals in Iraq and Afghanistan. Prior to deploying to Afghanistan he also completed a BSc in A&E Nursing. Anthony is also a Senior Fellow of the HEA, and he is currently undertaking his DProf at Middlesex University.
In addition Anthony has co-authored a text book in stoma care, which has been also published in Italian and has contributed chapters to advanced practice and general nursing text books. He also has a sound publication track record in advanced practice, trauma care and colorectal nursing, and has been an invited speaker at international conferences including Portugal, Hungary and Ireland.
Anthony has a wide range of teaching experience across undergraduate and postgraduate programmes. He has supervised students at both undergraduate and postgraduate level, and he has a keen interest in developing and expanding nursing practice.
His teaching is in the fields of advanced practice, trauma nursing and GI nursing, with a particular emphasis on physical assessment, clinical decision making and skills development.
Anthony has published a number of papers, books, and book chapters, as well as presenting at conferences both nationally and internationally.
His research interests include advanced practice, trauma nursing and GI nursing, with a particular emphasis on physical assessment, clinical decision making and skills development.
Royal College of Nursing (RCN): Member since 1986
Higher Education Academy: Senior Fellow since 2013
Army Nursing Professoriate : Member since 2010
Anthony has acted as an external examiner and advisor for a variety of UK and Irish Higher Education Institutions (HEIs) for adult nursing and advanced practice courses.
Anthony is a member of the Army Nursing Professoriate and the Reserve member on the QA Association a charity for Soldiers and Officers who have served in the Queen Alexandra Royal Army Nursing Corps.
Anthony is also the Chair of Governors at his local primary school.