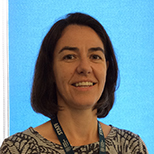 Anne Marie Langan
Senior Lecturer in Occupational Therapy
Health and Social Care / Allied Health Sciences
Anne Marie Langan is a Senior Lecturer and Academic Integrity Co-ordinator in the Department of Allied Health Sciences, School of Health and Social Care. She joined London South Bank University (LSBU) in 2011 having worked for 15 years in a range of clinical and managerial roles in healthcare services. This includes experience working in the United Kingdom, Ireland, and the Middle East.
Her areas of clinical speciality include acute care and neurorehabilitation.

She completed an MSc in Occupational Therapy at Brunel University exploring clinical reasoning and prescribing practices of health and social care professionals with responsibility for the prescription of community equipment. Anne Marie has a diverse range of teaching and research interests and is currently studying for a PhD exploring the experience of occupation for those living with and beyond cancer.
Anne Marie's teaching interests include:
Professionalism
Biomedical Sciences
Occupational Therapy practice in acute care and neuro-rehabilitation
Problem based learning
Practical skills – manual handling, mobility and the environment, wheelchair assessment, upper limb assessment
Anne Marie's research interests include the teaching of professionalism in pre-registration education and Occupational Therapy within the public health agenda.
Member of the British Association of Occupational Therapists (BAOT)
Registered with the Health and Care Professions Council (HCPC)
External Examiner for the BSc (Hons) Occupational Therapy course at Salford University (2020-24).