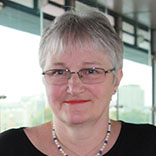 Anne Harriss
Professor
Health and Social Care / Primary and Social Care
Anne Harriss, Emeritus Professor, has extensive teaching and course management experience both at London South Bank University and previously at the Royal College of Nursing. She has driven the development of occupational health (OH) education and practice locally, nationally and internationally. In June 2019 she was appointed President Elect of the Society of Occupational Medicine (SOM). She will take on the role of SOM President in June 2020, the first President who is not a doctor, a first for nursing. She supports multi-professional working and is a Council Member of the Occupational Medicine Section of the Royal Society of Medicine and represents the Royal College of Nursing on the Council for Work and Health. As a Mental Health First Aid instructor she has an interest in delivering mental health first aid courses which incorporates strategic approaches to promote workplace mental health. She is an active supporter of the LSBU Armed Forces Covenant.
In recognition of her impact on occupational health education and practice, Anne is an honorary Fellow of the Faculty of Occupational Medicine and is a Fellow of the Royal College of Nursing (FCRN). An RCN Fellowship is the highest award the Royal College of Nursing can bestow; very few nurses are awarded it as it is only conferred on those who have made an exceptional contribution to nursing or health care. From an educational perspective the Higher Education Academy have awarded her both a National Teaching Fellowship and Principal Fellowship
In 2011, her peers recognised Anne's contribution to OH practice when she was named the first Occupational Health Nurse of the Year. In the same year, the portfolio of LSBU programmes she developed gained the Innovations in Occupational Health Award.
Anne leads and delivers a range of modules focusing on the varied facets of the role of the OH nurse including:
ethical and legal perspectives of OH practice;
vocational rehabilitation;
and health and safety and environmental management.
Teaching opportunities are delivered through varied platforms:
lectures;
problem-based learning exercises;
practice experiences and fieldwork activities (delivered in locations as varied as factories, botanical gardens and employment tribunals).
Anne has been integral to the establishment of a Society of Occupational Medicine research project considering the mental health of nurses which gained funding from the Royal College of Nursing Foundation.
Anne holds several high-profile professional awards including:
Fellow of the Royal College of Nursing (FCRN); Honorary Fellow of the Faculty of Occupational Medicine (FOM);National Teaching Fellow Higher Education Academy (HEA); Principal Fellow (HEA).
Anne is registered with the NMC as a Nurse (RN) and Specialist Community Public Health Nurse (SCPHN(OH) and is a Chartered Member of IOSH.
Anne has acted as curriculum and educational adviser on OH practice for a variety of institutions, both nationally and internationally. Internationally she contributed to a British Council funded projected in Slovakia. Within the UK she was a member of the "Task and Finish" group advising the Nursing and Midwifery Council on the public health role of OH nurses. This resulted in OH nurses being registered as Specialist Community Public Health Nursing.
More recently she has acted as an ex-officio adviser to the Council for Work and Health (CWH) taking the lead on preparing a paper for them on the challenges of preparing competent OHNs. That paper in turn influenced the development of educational standards for the Chartered Society of Physiotherapy.
She is a frequent Keynote speaker, Internationally during 2018-19 this included the relaunch of the Royal Australasian College of Physicians, the Health Benefits of Good Work Statement in Wellington, (November 2018). She was then Keynote speaker at the biennial Federation of Occupational Health Nurses in European (April 2018).