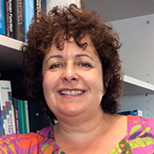 Anna Forte
Senior Lecturer - Occupational Therapy
Health and Social Care / Allied Health Sciences
Anna has a clinical background in Mental health Occupational Therapy with experience of working in both community and in-patient settings. She completed a Master of Science (with Distinction) in Mental Health Studies at the United Medical and Dental Schools of Guy's and St Thomas's Hospitals, University of London.
"Participation in Inter-professional Education: an evaluation of student and staff experiences"
Journal of Interprofessional Care. 2009;23 (1):58-66.
A. Forte and P.Fowler)