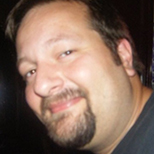 Andy Lemon
Course Director, BA/BSc Game Design
Arts and Creative Industries / Creative Technologies
Andy's career has spanned sound design, music and game design for the Gameboy, Gameboy Color, Gameboy Advance, Nintendo DS, Playstation/PS2/PS3, Mobile/Cellphone, iDevices, TV Game and PSP/Vita titles since 1996 as well as audio for various short film, events and art installation projects around the world.
Stand out titles he's worked on over the years include Aardman animation games titles on mobile including Angry Kid and Chicken Run, Disney Princesses', Star X on Gameboy Advance, the award winning WKN Kickboxing on mobile, the award nominated Polyhedra and Polyhedra XL on iPad and iPhone, the Commodore 64 DTV, Chu Chu Rocket for Sega on iPad and iPhone and Audio Direction for the Educational Games Network and a recent remix for the band Hot Chip & music and sound effects for both the Sensible Software Book Kickstarter + Sega Megadrive Collected Works Kickstarter book campaigns from Read Only Memory.
Andrew has been involved in lecturing at LSBU for 5 years in areas including Music, Sound Design and Game Design & Game History.
During this time he has spearheaded co-operative cross over work from students on differing degrees: students on the BA (Hons) Music and Sonic Media Degree second Year Media Sound Design module perform sound design audio contract work for Final (third) year students in the BA (Hons) Game Cultures Degree for their Advanced Game Projects Module.
He lectures on the following degrees: BA (Hons) Game Cultures, BA (Hons) Music and Sonic Media, BA (Hons) Digital Media Arts.
Andrew co-runs The International Games Developers Association London Chapter with Siobhan Thomas.
The International Game Developers Association [IGDA] is a non-profit membership organisation that advocates globally on issues related to digital game creation.
IGDA's mission is to strengthen the international game development community and effect change to benefit that community.
The IGDA London chapter's role within IGDA as an organization is to get game developers from in and around London to meet, organize sundry events of interest to games developers, make members and the general public aware of other events of interest & meet socially to discuss the games industry in general.
Andrew still works in the field of game audio (producing music and sound effects for games on the iPhone & Android platforms, most recently the app 30/30 and Chu Chu Rocket by Sega on all mobile platforms) and builds bespoke/one-off hardware synthesisers, microphones and pickups for sampling and sound design purposes for a number of clients and has also been heavily involved in the Demoscene since the age of 15.
He gives regular guest lectures across different degrees at London South Bank University and is a regular guest speaker at other Universities and Colleges in the Greater London and Sussex areas.