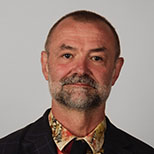 Andrew Read
Interim Head of Division for Education
Law and Social Sciences / Education
Andrew is interim Head of Division for Education and Head of Undergraduate Education programmes in the Centre for Education and School Partnerships. He joined London South Bank University in September 2016 from the University of East London, where he was Head of Teacher Education. He is particularly interested in identifying and exploring ideas of 'good practice' in primary schools.
Andrew taught in primary schools in Tower Hamlets between 1990 and 2005. He completed an MA in Feature Film Screenwriting at Royal Holloway College, University of London, in 2004.
Andrew's teaching interests include Teacher Education and Education Studies. He has taught at the Universities of Cumbria and East London as well as at LSBU.
BA Education Studies
Project (module co-coordinator)
Assessment in education (module co-coordinator)
Study skills for education
Language, literature and learning
Equality, culture and citizenship
PGCE
Professional studies and alternative educational setting
Andrew's primary interest is in the field of assessment and its application in schools and HEIs. He has also looked into the effectiveness of strategies used to develop learner independence.
Andrew is a Fellow of the Higher Education Academy.
Andrew is an external examiner at Sheffield Hallam University, in Teacher Education, Primary and Early Years, and school-based modules