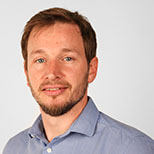 Andrew Fergusson-Rees
Senior Lecturer; Course Director, MEng/BEng Petroleum Engineering
Engineering / Chemical and Energy Engineering
Andrew gained an MEng in Chemical Engineering from Leeds University before completing his PhD at Imperial College London in Catalysis and Reaction Engineering. He then worked as a process engineer in the oil and gas sector for 6 years, gaining chartered engineer certification and membership of the Institute of Chemical Engineers.
Andrew currently teaches production engineering, including HYSYS and PROSPER computer modelling, on the MEng/BEng and MSc Petroleum Engineering courses. He also supervises MSc and PhD research projects. His research interests are in multi-phase fluid flow associated with well performance, and also heterogeneous catalysis and reaction engineering.
MEng/BEng Petroleum Engineering (Level 6)
Production Engineering
Engineering Design Project
MSc/MEng Petroleum Engineering (Level 7)
Advanced Production Engineering
Field Development Plan
Engineering Group Project
MSc Dissertation Project
Andrew's current research investigates multi-phase fluid flow in vertical/inclined tubing associated with improving well performance and analysis. This includes investigation of the flow regimes, the transition between flow regimes and particularly the hydrodynamics of the slug flow regime. He also has interests in heavy metal heterogeneous catalysis and reaction engineering associated with "greener" and sustainable chemical technology.
See Andrew's publications at LSBU Open Research
Chartered Member of the Institute of Chemical Engineers (CEng MIChemE)
Senior Fellow of the Higher Education Academy (SFHEA)