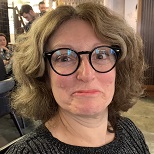 Andrea Colquhoun
Lecturer
Health and Social Care / Social Sciences
Andrea Colquhoun qualified as a social worker in 1987. Since that time she has worked for a number of London Boroughs. Her specialism is mental health practising as an AMHP for a number of years, although she also has worked generically as a Senior Practitioner.
Andrea began teaching in the early 1990's. She has an MA in Culture and Modernity, PGCHE and is a Senior Fellow of the Higher Education Academy. She is currently undertaking a PhD.
Andrea's teaching areas include Sociology and Social Work, Professional Practice, Communication and Collaborative working.
Andrea's PhD research is focused upon women in mid life and how they construct commitment.