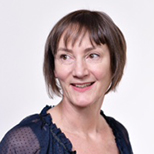 Amanda Hesman
Senior Lecturer
Health and Social Care / Adult Nursing and Midwifery
Amanda Hesman's clinical background in HIV/AIDS and sexual health commenced in the 1990's at St Mary's Hospital Paddington, London. Amanda has had subsequent roles in sexual health including GUM Nursing, Researcher and Health Advisor.
With her teaching being informed by an inequalities framework, Amanda always strives to challenge discriminatory views in the classroom and clinical practice in a professional and non-adversarial manner. Amanda's teaching practice continues to be motivated and is inspired by students and their enthusiasm for learning.
Amanda has a Certificate in Health Education and an MA in Women's Studies from the University of Westminster, and a PgCert in Education from London South Bank University (LSBU). Her previous research includes sexual networks and gay men with gonorrhoea. More recently she has contributed 3 Chapters in Fundamentals of Health Promotion for Nurses (2014) edited by Professor Jane Wills, Professor of Health Promotion at LSBU.
Amanda Hesman is a member of the following teaching teams in addition to teaching about HIV and Sexual Health on an ad hoc basis:
Best Practice - Level 5 (Year 2)
Politics of Health - Level 6 (Year 3)
Evidenced Based Practice - Level 6 (Year 3)
Amanda's research interests include: HIV and sexual health, HIV related stigma in nursing and decision-making and cancer treatment.
British Association Sexual Health and HIV (BASHH)
National HIV Nurses Association (NHIVNA)
Registered Nurse Adult and Recorded as Teacher with the NMC