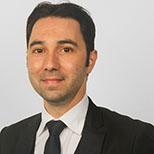 Alessio Corso
Head of Division
Engineering / Mechanical Engineering and Design
Alessio is the Course Director for the BEng/MEng Advanced Vehicle Engineering course and Head of Division. He is module co-ordinator for Design and Practice, a module taken by all first year engineering students. Alessio is also the lead academic for the Personal Tutoring scheme, and for the NSS activities run in the School of Engineering.
Prior to joining LSBU, Alessio lectured at Kingston University where he also carried out research which focused on how design can assist people with disabilities (e.g. Vision Impairment, Dementia and Autistic Spectrum Disorder).
He has also worked as a Product Design Engineer for several years, in a Product Design Consultancy that specialised in medical products (injection pens for diabetes), medical packaging and inclusive design. Products that have been designed by Alessio are commercially available, and currently in use.
He graduated from LSBU, from the BSc (Hons) Engineering Product Design sandwich course with a First class honours degree and gained his MSc Integrated Industrial Design (Distinction) from Brunel University. He also has a PG Certificate in Higher Education from Kingston University.
Alessio was highly commended for 'Enterprise and Innovation' and for 'Outstanding Lecturer' in the Staff Awards 2019
Current modules taught:
Design and Practice
Engineering Design
Final Year Project Supervision
Previous modules taught:
Masters
Project Management and Simulation
Second year undergraduate
Engineering Design and Product Development
Engineering Design and Sustainability
Product Visualisation
Design Studies
Computer-Aided Design 2
Computer-Aided Manufacturing and Robotics
First year undergraduate
Engineering Workshop Theory and Practice
Management and Design Applications
Alessio's research has focused on how Design can assist people with a disability, focusing on the following areas:
Vision Impairment
Dementia
Autistic Spectrum Disorder
The research projects have been funded by:
Moorfields Eye Hospital Special Trustees
Thomas Pocklington Trust
Audi Design Foundation
Arts and Humanities Research Council
GA Architects
Alessio is currently co-writing a new book on Design and Dementia. He has also presented in the UK on the topics of 'Design for Dementia', and on 'Contrast, Accessibility and Environments'.
Senior Fellow of the Higher Education Academy (SFHEA)
Graduate member of the Institution of Engineering Designers (IED)
Advisory panel member for the Arts and Humanities Research Council funded research project: The Multi-Sensory Environment (MSE) in dementia care: The role of design (http://fada.kingston.ac.uk/de/projects/).