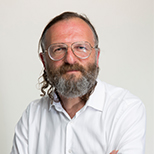 Alan Russell
Senior Lecturer
Law and Social Sciences / Law
Alan is a Senior Lecturer and a Senior Fellow of the Higher Education Academy. He is also a practising solicitor.
An expert in clinical legal education, Alan was the founding Director of the award-winning LSBU Legal Advice Clinic (LAC), an innovative student led public drop-in social welfare law advice service for London. The LAC has re-established LSBU as one of the leading centres of clinical legal education in the UK.
Alan has also been Director of UCL's Centre for Access to Justice.
Alan has been instrumental in developing practical, skills-based teaching modules at LSBU which have successfully embedded the Chartered Legal Executive (CILEx) qualification into the undergraduate qualifying law degree.
Alan is also an experienced housing, homelessness and social welfare law solicitor. He is a consultant at Philcox Gray & Co, a Legal 500 ranked legal aid firm in south east London, and works as duty solicitor covering the housing possession list at Lambeth County Court.
Previously Alan was the Supervising Solicitor at Camden Community Law Centre in London for many years. He was on the steering group of the Camden Community Legal Services Partnership and he developed and wrote the Legal Services Commission's standards for the delivery of publicly funded outreach legal advice services.
Alan has advised the Law Society's Access to Justice Committee in relation to the public funding of housing advice and litigation and the Law Commission on proposals for a specialist housing court.
Alan holds a Certificate in Higher Education (Teaching and Learning). He is an external examiner for clinical post graduate law programmes at the University of Ulster (appointed 2016) and he is a reviewer for the International Journal of Clinical Legal Education.
Alan currently teaches Contract Law at Level 4 (undergraduate) and is the convenor for Consumer Protection and the Law at Level 5 (undergraduate). He supervises student projects at Levels 6 and 7 (undergraduate and postgraduate).
In addition Alan has designed and teaches dedicated training programmes for clinical legal advice work (interview skills, client care and legal ethics).
Alan also has extensive module design, convening and teaching experience in public law, civil litigation, civil justice, housing law and social welfare law.
Alan's research interests are in the areas of clinical legal education and access to justice. He has spoken on these topics at numerous national and international conferences.
Alan is currently engaged in a research project examining the impact of extended clinical placements on the progression and attainment of undergraduate LLB students. The results are to be published in the International Journal of Clinical Legal Education.
He is also writing a book chapter for Intersentia on LSBU's particular and innovative drop-in model of clinical legal education, and is engaged in an ongoing joint research project considering methods for the expansion of clinical legal education in Brazilian and South American law schools.
Alan is a Senior Fellow of the Higher Education Academy and a Solicitor of the Supreme Court.
He is on the steering committee of the Southwark Legal Advice Network and is a member of the Clinical Legal Education Organisation and the Housing Law Practitioners Association.
Alan is a consultant solicitor at Philcox Gray & Co Solicitors and Chair of Governors at Columbia Primary School in Tower Hamlets, east London.