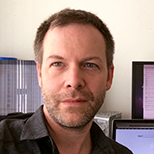 Alan Lewis
Head of Creative Technologies
Arts and Creative Industries / Creative Technologies
Alan Lewis is Head of the Division of Creative Technologies for the School of Arts and Creative Industries. In this role, he is responsible for the overall operation and development of the Visual FX, Games, Digital Design, Sound, and Journalism BA/BSc degrees. He is also the Course Director for the Visual FX programme.
Before joining LSBU, Alan was Head of School at Central Film School in London. During this period, his main objective was to review the existing portfolio of courses on offer at the School. This entailed revalidating the existing undergraduate offerings in Filmmaking and Screenwriting to make them more focused and practical, as well as strengthening the offering in Postproduction and Visual FX.
In 2014, Alan was engaged to deliver a year-long film and television training programme for Pinewood Studios Malaysia, funded by the Malaysian government. The overall aim of the programme was to train the local workforce in international film production standards, so that they would be able to work effectively as crew for incoming productions. A team of over 30 award-winning international filmmakers, writers, cinematographers, and producers agreed to participate in the programme. Over 700 students and working professionals successfully completed the programme, many of whom are now working on a variety of international and regional film and television productions.
In 2010 Alan joined the Met Film School to develop a 2-year long undergraduate Visual FX and Animation pathway curriculum. He subsequently developed several specialist visual FX course in match-moving and motion capture. Alan then became Head of MA Postproduction, delivering the first postgraduate programme in editing, visual FX, and postproduction. In 2013, in his overall role as Director of Programmes, Alan became responsible for the delivery of the filmmaking, cinematography and post-production courses across the BA, MA and non-accredited programmes delivered at the school.