Dr Marcelle Moncrieffe-Johnson
Dr Marcelle Moncrieffe-Johnson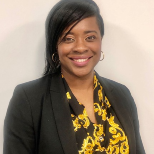 Dr Marcelle Moncrieffe-Johnson
Group Chief People Officer
PA Natalie Richardson 0207 815 6202
Dr Marcelle Moncrieffe-Johnson is the Group Chief People Officer at London South Bank University Group and is a member of the Executive, having joined as Group Executive Director, People and OD in 2019. Marcelle has over 20 years HR experience gained in several sectors. Marcelle was previously Head of HR at the BBC overseeing cultural change, employee relations cases and HR support services for 20,000 staff and delivered major change in BBC News and BBC Television. Marcelle spent several years in London Local Authorities in strategic HR roles including Director of Human Resources and OD.
Non-Executive Director at Camden and Islington NHS Foundation Trust.
Marcelle has completed a part time doctorate exploring the impact of workplace cultures on the career progression of Black employees.