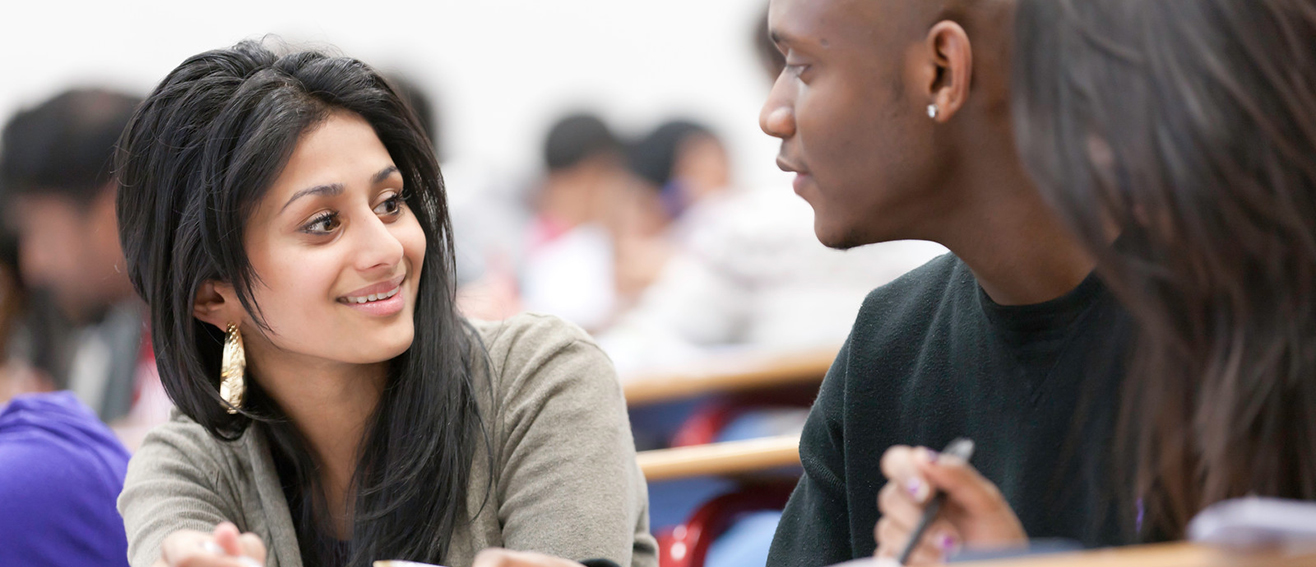 Outreach activities
We organise activities and projects for young people that encourage their participation in higher education
As a university, we are committed to providing an outstanding selection of outreach activities to stimulate interest in the benefits of university study. Our outreach activities focus on our priority catchment areas in the London boroughs of Lambeth, Lewisham and Southwark. There are also the young people and mature learners in key feeder FE and Sixth Form Colleges in the London boroughs of Barking and Dagenham, Bexley, Croydon, Greenwich, Havering, Newham, Redbridge, Tower Hamlets, Waltham Forest and Wandsworth.
We have identified 18 schools in our local area that match our desire for providing a quality student experience. They all demonstrate exceptional added value for their students. We've made a long-term commitment to support their efforts to maximise their students' aspiration and achievement.
We are happy to consider requests for outreach activities from educational institutions outside of our catchment boroughs.
We also have special partnerships with OCN London.
Outreach Activities
Primary School

Our local Children's University Trust offers primary school children in Lambeth exciting and innovative learning activities and experiences outside school. To celebrate their achievements, participants graduate at a ceremony on the LSBU campus presided over by Beverley Jullien, Pro-Vice-Chancellor.

Yr 7 Assembly

Student Ambassadors perform a short play they wrote themselves to illustrate how important it is to start thinking about university while still at school. This leads onto short presentations of the student's own school experience and how it helped them decide on what to study at university.

Yr 8/9 Introduction to University

Groups of 25 pupils visit the campus for a day and take part in various Student Ambassador led activities which illustrate what university is like and the opportunities it provides.

Yr 10: Mentoring

Individual pupils are invited to see their Student Ambassador mentor once a week for 10 weeks. The Mentors are there to help improve individual school performance, with a focus on paving the way for progression to higher education.

Yr 10: Summer School

Pupils from across London come together for a four-day fun mix of learning and recreational pursuits, to energise them about the opportunities they'll find at university.

Yr 11: Revision sessions

Our Student Ambassadors help out at revision classes organised in local schools to join up their learning with the school curriculum.

Yr 12: Taster days

Participants come on campus to sit in a lecture for a subject they are interested in. They also meet current students who give them an insiders' view of studying the subject at LSBU.

Yr 12: Summer Schools

Pupils from across London come together for a four-day fun mix of learning and recreational pursuits, to energise them about the opportunities they'll find at university.

Yr 12: Learning to Learn

This series of workshops covers the necessary skills students should develop to receive the maximum benefit from higher education. When studying at LSBU there are also a number of student support services they can benefit from.

Yr 12/13 Applying to University

Now that university is getting closer we run workshops on how to complete the UCAS form, personal statements, the workings of student finance and student finance form filling.

STEM

Solar Car Challenge: groups of five pupils from years 7 and 8 take part in a competition over six weeks to build the solar car that travels the furthest and fastest. Groups are often drawn from school STEM clubs, but it is up to the school how they organise their entry.

Engineering Pick 'n' Mix

Young people participate to create a prototype of a practical invention and then pitch their idea to a business panel.

The Wonderful World of Engineering

This day introduces participants to the variety of opportunities available through engineering. They're also shown some remarkable innovations and products engineers have created.

Food Technology Taster Day

This exciting day of first-hand experiences allows participants to experiment in the university's professional-standard food technology laboratories to develop their own brand of canned food.

Salter's Chemistry Festival

This innovative competition invites teams from different schools to pit their wits in interactive chemistry investigations in a competition designed to demonstrate the most superior laboratory skills.

Care Leavers

Our project, City Opportunities, was set up to help transform the futures of young adults who have spent their childhood in care. It is run in collaboration with the City of London Economic Development Office and promotes graduate opportunities in the City of London. It recently won the Widening Participation Initiative of the Year at the Times Higher Education Awards. Read more about Care Leavers at LSBU.