The University is constantly looking to develop and extend the benefits of its location and the features of its varied landscape. This leads us to create innovative new buildings, redevelop Grade II-listed properties and carry out a programme of changes and improvements that constantly further enhance our student offer.
As a University, we're committed to innovation that serves our community and our students. We're a modern university that knows how to develop opportunities and infrastructures to boost education, research and enterprise.
Latest on-campus improvements
The Digital Architecture Robotics Laboratory research platform opens

The Digital Architecture Robotics Lab (DARLab) is a research platform in architectural education that advances experimentation and cross-discipline collaboration among students, industry partners and academic staff to expand the boundaries of architectural practice.

The latest Digital Diagnostic X-Ray equipment opens for Radiography students

Our School Health and Social Care opened the Fujifilm D-EVO Suite to add to the sophisticated skills laboratories found in our landmark building, K2. Fujifilm is a pioneer in diagnostic imaging and information systems and these new facilities enable LSBU to offer students the best possible learning facilities, adding much to their practical knowledge.

Psychology laboratories and workshops

In a major development, we have extensively grown laboratory space and completed it with leading technologies to benefit undergraduate and postgraduate students alike. There is now a realistic bar, with its very own optics and flocked wallpaper that is central to the team's work into contextual studies of addiction. Read more about LSBU's psychology facilities.

Perry Library, Southwark campus

£1.9 million worth of improvements have been made to the library, that now has a more accessible entrance, a comfortable and welcoming reception and improved access via lifts and stairs. There is also a silent study area and the Journals collection is easy to reach in the centre of the library.

Campus Kitchen, London Road Building

The seating options within Campus Kitchen, our student refectory, are more flexible and comfortable. Plus, we have extended our food range with a number of different stations that bring varied food flavours from around the world.

Sports Centre

The highly accessible external entrance to LSBU's Academy of Sport is open. Offering both ramp and stair access, we better serve our students and the local community who benefit from using our sports and fitness facilities.
Find building locations and tips on how to travel to them on our Maps and travel page.
Major developments
Elephant Studios at LSBU
In February 2016, we opened a £4 million studio complex offering high-specification production facilities for multimedia creative practice, for student use and commercial hire. The complex includes Arri Cameras, Dolby Atmos Surround Sound studios and cinemas, grading suites, news room and games design centre, digital design suites, and industry-ready film and photographic studios.
Janet Jones, Dean of the School of Arts and Creative Industries, commented: "LSBU's School of Arts and Creative Industries has a strong and deep heritage in media, design, performance and the visual arts. Now our students will have access to the most advanced production technology available ensuring they have the best possible experience and employment outcomes. SE1 is quickly becoming a vibrant, creative hub. Move over Soho, it's Southwark that will host the next generation of creative talent!"
Find out more about Elephant Studios at LSBU.
Enterprise centre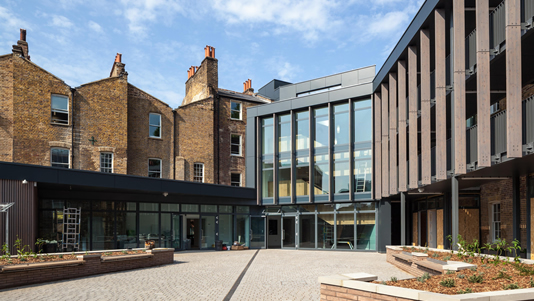 Autumn 2013 saw the opening of our brand new enterprise centre, The Clarence Centre for Enterprise and Innovation. The centre has been created in Grade II-listed Georgian Terraces on our Southwark Campus.
The centre takes its name from The Duke of Clarence public house which once stood in the middle of the houses and brings a piece of social history thoroughly up to date. This specialist hub brings a new lease of life to some of the oldest buildings on campus and is part of LSBU's commitment to developing and improving our campuses in order to continue meeting the needs of students.
If you're a start-up business find out what the Clarence Centre for Enterprise and Innovation has to offer.
Student Centre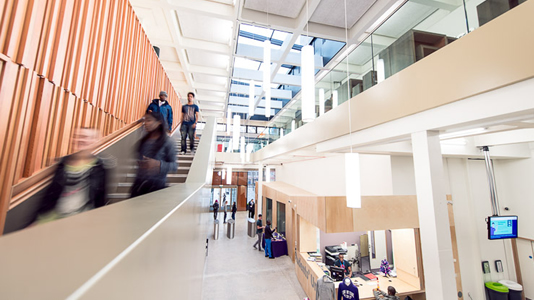 Our spacious and bright Student Centre cleverly combines all our non-academic student support services with the new permanent home of our Students' Union. This comfortable space is the place for informal meetings with lecturers and group working with fellow students. Then it seamlessly converts to an intimate evening venue.
Taking a prime location under our existing Tower Block, it makes a vibrant centre adjacent to our Borough Road building, the original heart of our city-centre campus. The architect for the project was London-based Hawkins Brown, a past Higher Education Architect of the Year.
Top of page