Section Menu
The Blockchain Revolution (Elastos and Seratio)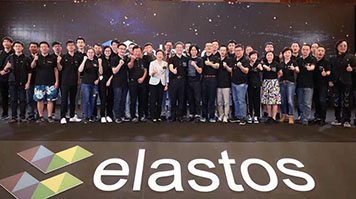 How will Blockchain revolutionise the way we manage creative assets, improve social engagement and enhance citizenship? Come along to find out
Welcome to the future! How will Blockchain revolutionise the way we manage creative assets, improve social engagement and enhance citizenship? How will it redefine the internet as we know it, to empower user innovation and redistribute wealth more evenly through society via a new global economy.
London South Bank University's Brandmovers Institute for the Digital & Creative Economy are delighted to host two internationally renowned speakers, Dr Feng (Sunny) Han, founder of Elastos, and Professor Olinga Ta'eed, Director of the Centre for Citizenship, Enterprise and Governance. This event is also supported by UK China Catalyst Ltd.
Elastos – Innovation Capitalism
Elastos is the world's first internet-based operating system which focuses on the re-decentralisation of the internet leveraging blockchain technology to secure identities. It utilises the internet as the base-layer infrastructure rather than as an application and uses decentralised ID's issued via the blockchain in place of standard IP addresses.
The Seratio Ecosystem: Capture and Transact Love on the Blockchain
In development since 2011, the not-for-profit Centre for Citizenship, Enterprise and Governance is the world's leading Think Tank on the Movement of Value. It's Seratio Blockchain community is one the largest in the world with 120,000 members, 248 staff, 39 blockchain projects, 19 cryptocurrency commissions, 10 whitepapers, 8 global offices, 5 divisions, 3 academic journals. The focus is to develop structures for good using a combination of DLT, AI Wallet, Provenance Engine, Non-Financial Metrics, Microshare Exchange and Hybrid DAO. Now nearing completion, this will be an early opportunity to articulate the whole picture, invite critique and refine the paradigm to capture and transact other kinds of important assets – love, hope, kindness, happiness, generosity, art.
Event schedule
| | |
| --- | --- |
| 18.30 | Entry |
| 19.00 | Event begins |
| 21.00 | Event ends |
There are a series of Elastos relevent events taking place in July in the UK, organised or co-organised by UKCC, LSBU, PwC.
Top of page
Top of page