Section Menu
Sundance London Ignite on Tour - Shorts Masterclass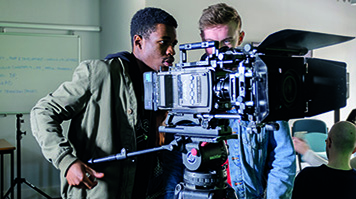 An excellent opportunity to hear from a senior programmer at one of the most prestigious festivals in the world as part of the Sundance Ignite on Tour: London
Get real-world advice on making short films and working with film festivals from Sundance Institute Senior Programmer Mike Plante and special guest filmmakers Kibwe Tavares – whose latest short film Robot & Scarecrow will be featured at Sundance London Film Festival in the Shorts Programme, and Bella Wing-Davey with her short film The Rain Collector.
Sundance Ignite on Tour: London runs from 25 May–3 June. All events are free. The event offers five days of independent film screenings, director chats, panels and networking opportunities for emerging filmmakers.
Sundance Ignite on Tour London is supported by Adobe Project 1324.
Sundance Ignite identifies and supports new voices and talent from the next generation of filmmakers and fosters fresh audiences for independent storytelling. Sundance Ignite on Tour travels with films and filmmakers to college campuses, community centers and arts organisations for screenings, discussions, Short Film Masterclasses, workshops and case studies.
Top of page
Top of page