Section Menu
A season of Shakespeare: A Midsummer Night's Dream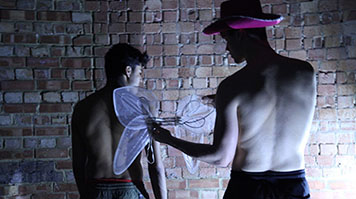 This season we start with Lucy Richardson's direction of the much loved A Midsummer Night's Dream with its mix of royal wedding preparations, confused lovers and fairies filling the air
On the night before the royal wedding the toffs are out on the tiles. Lysander is on the pull, Demetrius is talking dirty and the girls don't know which way is up.
Above the local pub the am dram crowd, led by Peter Quince, are trying to prepare a play for the royal celebrations but unfortunately they couldn't organise a piss up in a brewery.
But the fairies are out too – painting the town red. Oberon is as drunk as a lord and Titania is barking at the moon – and Puck has some drugs to spike the drinks and some dodgy costumes to make people look ridiculous.
They're all going to be suffering from the grapes of wrath in the morning!
The LSBU Student Theatre Company take Shakespeare's A Midsummer Night's Dream and dress it to kill, to give you a great night out!
Lucy Richardson is a director, dramaturg and educator. Her work focuses on giving a platform to those under-represented in the theatre and in society. It spans professional theatre work and large scale participatory projects.
Lucy's directorial work includes The Woman Who Cooked her Husband by Debbie Isitt in the West End, The Quick by Stephanie Jacob at the Tristan Bates Theatre and Heart Speak by Zawe Aston for Clean Break. Her most recent production The Strongbox by Stephanie Jacob won The Origins Award for Outstanding New Work at Vault 2018. She is currently developing two one-person shows – one about bare knuckle fighting in the traveller community and one about the menopause!
Lucy was Associate Director of Project Phakama for many years making large scale, immersive, participatory performance in South Africa, Argentina, India and Lesotho and UK. Her book Phakama: Making Participatory Performance is published by Bloomsbury Methuen this year.
Lucy has directed over 30 productions in Drama Schools and Universities and was Artistic Director for Lewisham Youth Theatre for 10 years.
To book tickets please call or email using the contact details above.
Top of page
Top of page