Section Menu
Research today: writing workshop for staff and PhD students
| | |
| --- | --- |
| Date: | 8 March 2018 |
| Time: | 12:00 - 15:00 |
| Location: | |
| Organiser: | Karin Moser |
| Contact details: | 020 7815 7701, moserk@lsbu.ac.uk |
| Price: | Free |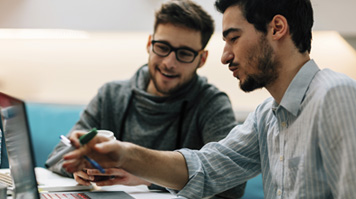 Prof Yehuda Baruch will be running a writing workshop to further enhance the quality of our academic team for publishing in top refereed academic journals, taking an editorial view
Academic writing and publishing is a critical aspect of being a successful scholar, with promotion, tenure, and effective teaching relying on publications in leading journals. Many academics, in particular at their early stages of the academic career, find academic writing a challenge, for a variety of reasons. This workshop is intended to help overcome this challenge. The knowledge provided during the workshop will guide and inform future writing, re-writing, reviewing, and publishing.
The workshop is led by Prof Yehuda Baruch who has published some 140 refereed journal papers (24 of which in the FT list), as well as 43 book chapters and 5 books (H-index of 53, with more than 14,000 citations). He is former Editor of Group & Organization Management (2007-2012), Editor of Career Development International (2004-2007) and Associate Editor, Journal of Managerial Psychology (2002-2005), and now Associate Editor of Human Resource Management (4*, FT list). He is the VP for Research of EURAM, and served as the Chair of the Careers Division, the Academy of Management, and as a Track Chair in a number of major conferences.
The new season of "research today!" seminars opens on Thursday, 15 February 2018!
Season Four of our "research today!" seminars opens on 15th February 2018. If you haven't been to one before, these are short presentations of emerging or new research in the Business School, followed by an informal discussion. They last an hour, they are happening every week from now until the end of term, and this season again has great talks with some exciting guests.
Who can attend? Anyone interested can attend, no registration is needed. Just join us!
Who can present? Researchers and doctoral students from the Business School and associated guests, visitors and collaborators. This is a research forum to exchange ideas, get to know each other's research and foster collaboration in a collegial and friendly environment. The Season Four programme is full, but you can still book a spot for Season Five in the summer if you contact Fabian Scholda.
What's in it for me if I come along?
How long do you have? Find out about sexual citizenship, corporate disclosure and corporate governance in the Pakistani banking sector, the future of collective bargaining in Nigeria or all you need to know about publishing in high level journals and more.
See new ways of presenting persuasively. Meet new colleagues. Discover things you have in common. Test new ideas and bring your best arguments. It could even lead to new research collaborations.
Great! Just remind me where and when?
LR391, every Thursday from 12-1pm. You don't have to book, just roll up. We continue informally until 2pm for those who want to and have the time. Bring your lunch or coffee, and a sharp mind.
Business School Research pages: http://www.lsbu.ac.uk/schools/business/research
Follow us on twitter: @LSBU_BUS @LSBU_REI #researchtoday
Top of page
Top of page