| | |
| --- | --- |
| Date: | 2 October 2017 |
| Time: | 10:00 - 18:00 |
| Location: | Royal Festival Hall, Southbank Centre, London, SE1 8XX |
| Organiser: | LSBU Graduation Office |
| Contact details: | 020 7815 8182 / 8184, graduate@lsbu.ac.uk |
| Price: | Free for graduates - invite only, guest tickets purchased separately |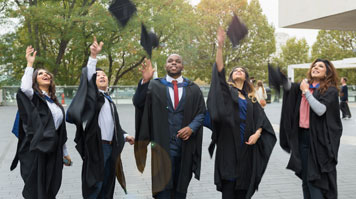 LSBU's Graduation is a fabulous occasion which recognises your achievement and gives you the opportunity to celebrate with family, friends, LSBU staff and sponsors
London South Bank University (LSBU) holds annual Graduation Ceremonies in the autumn of each year, at the Royal Festival Hall which is part of the Southbank Centre, London.
LSBU holds two ceremonies per day for the School of Business, one at 11am and one at 3pm. The timing of graduation depends on the course of study.
Course Listings and Timings
(PDF File 134 KB)
Each ceremony takes around 3 hours which includes a light refreshment buffet held after formal proceedings take place.
Each ceremony is invite only.
All eligible graduates were emailed an invitation in August 2017. If you are a graduate and did not receive your invitation book your place now. Please register only once.
Once a graduate has booked their place they will receive a confirmation letter which provides them with further details.
Guest ticket link - you can purchase up to 6 guest tickets per graduate.
Gown hire and photography - please note you must order your gown hire no later than 21 days prior to your graduation event.
Gown hire must be ordered in advance up to 21 days prior to graduation. Photography and DVDs do not have to be pre-ordered in advance.
Please note that graduates are asked to arrive a the Royal Festival Hall up to 90 minutes before the start of their ceremony to ensure they have enough time to collect their gown, get their photographs taken and to collect their own ticket from the LSBU Registration Desk at the Royal Festival Hall.
Guests and graduates must be seated in the auditorium no later than 30 minutes before the ceremony starts.
Download the LSBU Graduation Pocket Guide 2017 (PDF File 113 KB)
Top of page
Top of page