Section Menu
Film launch of 'Usher Syndrome: Seeing me through my eyes'
| | |
| --- | --- |
| Date: | 19 July 2018 |
| Time: | 12:30 - 13:30 |
| Location: | |
| Organiser: | Michelle Evans |
| Contact details: | evansm9@lsbu.ac.uk |
| Price: | Free |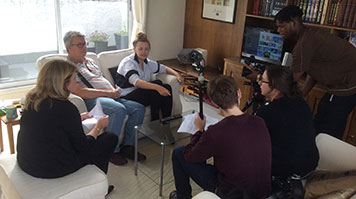 Michelle's PhD research was aimed at developing an understanding of the experiences and diagnosis of Usher syndrome; a rare form of congenital deafblindness
Dr Michelle Evans, Senior Lecturer in Social Work, School of Health and Social Care and Dr Patrick Tarrant, Course Director of Film practice, School of Arts and Creative Industries, have produced a short film entitled, 'Usher syndrome: Seeing me through my eyes' based on findings from Michelle's PhD research aimed at developing an understanding of the experiences and diagnosis of Usher syndrome; a rare form of congenital deafblindness from the perspective of adults living in England.
The film will be launched on Thursday 19 July 2018 at London South Bank University, Research Summer School, Lodge Theatre, London Road, SE1 0AA at 12.30pm.
The key conclusion from Michelle's research was that people who are diagnosed with Usher syndrome do not want everything done for them, but they do need increased support to be able to live with the life altering effects of Usher which affects the practicalities of day to day living, communication and mobility. The production of this film, not only contributes to disseminating findings, but it is anticipated it will also reach wider audiences to raise awareness of Usher syndrome.
This collaborative venture between Health and Social Care and Arts and Creative Industries, included: an Usher consultant, students, volunteers, music composer, original composition of music, paid actors who also experienced disability and academics Dr Patrick Tarrant and Dr Michelle Evans.
Top of page
Top of page