Section Menu
The Fawcett Society Conference 2018 - Know Our Worth
| | |
| --- | --- |
| Date: | 17 October 2018 |
| Time: | 09:00 - 19:00 |
| Location: | |
| Organiser: | The Fawcett Society |
| Contact details: | 0203 598 6154, info@fawcettsociety.org.uk |
| Price: | £17 - £35 |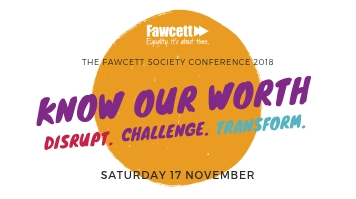 Having celebrated 100 Years of the Women's Vote earlier this year, LSBU are proud to be hosting the Fawcett Society Annual Conference 2018
Know Our Worth. Disrupt. Challenge. Transform.
Join us at our annual conference for a day of inspiring panel discussions, interactive breakout sessions, an evening networking reception - and the chance to hear from women making history.
This year we are thrilled to announce our first keynote speaker as former BBC China Editor and equal pay champion Carrie Gracie. After her long battle for equal pay, Gracie chose to donate her backdated pay to the Fawcett Society earlier this year. The money will fund a legal support service to help low-income women negotiate equal pay, which we are launching this November.
The day will also include a welcome address from Fawcett Chief Executive Sam Smethers, and the opportunity to hear from Fawcett Chair Fiona Mactaggart.
Take part in our panel discussion and breakout sessions to explore themes centred around fighting for our rights, challenging traditional models of leadership, and transforming communities through local activism.
OUR LINE-UP:
9 - 10am: Arrivals, registration and networking
10 - 10.30am: Welcome from Fawcett Chief Executive, Sam Smethers
10.30 - 11am: Keynote speech from Carrie Gracie, Former BBC China Editor
11 - 12.15pm: Panel discussion 'Know Our Worth: get equal at work' with panelists:
Sam Smethers, Chief Executive at The Fawcett Society
Jo Swinson MP, Deputy Leader of the Liberal Democrats
Carrie Gracie, Former BBC China Editor
Julie Jaye Charles, CEO of the Equalities National Council
Catherine Mayer, Author and Co-Founder of the Women's Equality Party
12.30 - 2pm: Lunch & Networking in the Marketplace (1-2pm: AGM for Fawcett members)
2 - 3.30pm: Breakout Sessions. These are:
Know Our Rights: This session will promote Fawcett's new Equal Pay fighting fund and also provide information on how to challenge discrimination at work. In partnership with YESS Employment and Leigh Day.
Write Your Own Future: A panel discussion featuring feminist authors. Featuring gal-dem, an online magazine produced exclusively by women and non-binary people of colour.
Local Activism - driving change on the ground: A workshop led by Katie Finnegan, Director of 'Good Night Out' and Co-Director 'The Collective Liberation Project'. More details to be announced soon.
Herlarious Reverse Mentoring - Reach your potential at speed: Reverse Mentoring led by Lynne Parker and Sue Lister from the UK's leading female comedy community Funny Women. Join this reverse mentoring session to find that person who is going to give you the vote of confidence from a place of neutrality and non-judgement. If you're interested in networking for the benefit of your career then this is the session for you.
More exciting breakout sessions to be announced soon!
3:30 - 4pm: Break
4.00 - 5.00pm: Panel discussion 'Can We All Be Feminists?' with panelists:
Liv Little, Founder and Editor-In-Chief, gal-dem
Jordan Stephens, artist and campaigner
Kate Maltby, writer and academic
5 - 7pm: Evening Networking Reception
LINE-UP SUBJECT TO CHANGE
For more information, please visit The Fawcett Society website.
Top of page
Top of page