| | |
| --- | --- |
| Date: | 8 November 2017 |
| Time: | 09:30 - 17:30 |
| Location: | |
| Organiser: | Ashutosh Choubey and Nikki Lam |
| Contact details: | lamn@lsbu.ac.uk |
| Price: | £60 for members of CLAWAR, BCS and WCIT and LSBU academics. £70 for non-members. £40 for external students. Free for LSBU students (limited spaces available) |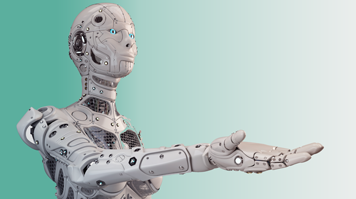 Join our one-day conference bringing together researchers, professionals and industry experts with an interest in robotics and their impact on society and industry today
Hosted by London South Bank University (LSBU) as part of the Robots in society series, this event will focus on current robotics; exploring the growing role of robots in different services and sectors, and everyday life.
The role of robots is evolving rapidly, from their industrial manufacturing roots, to wider service applications with closer human-robot interaction. With a degree of autonomy, robots have the capability to make independent decisions for fulfilling their tasks. Robots are now being used for medical surgery, aiding the rehabilitation of patients or providing support to disabled people. There are also driverless cars and drones which are now falling into the robotics agenda. With the development of new emerging robots, how can we manage concerns relating to safety, ethics and law?
This interactive conference will give you the opportunity to join the discussion with industry experts around societal concerns, network with the robotics community and see live demonstrations of the latest emerging robots.
Come and hear from:
Prof Bryan Bridge, TWI and CLAWAR Association Ltd
Dr Raphael Grech, Manufacturing Technology Centre, Coventry
Satwik Mehta, HSSMI
Prof Tariq Sattar, TWI Chair and Director of the London South Bank Innovation Centre
Dr Simon Watson, Lecturer in Robotic Systems at the School of Electrical and Electronic Engineering, University of Manchester
Dr Sarah Fletcher, Cranfield University
Prof Gurvinder S. Virk, Technical Director at Innotec UK Ltd
Luke Hares, Cambridge Medical Robotics
Dr Peter O'Neill, Sheffield Hallam University
Dr Isabel Ferreira, Lisbon University, Portugal
Download these documents for more information:
This event is the second in a series of five Robots in society events organised by the CLAWAR Association.
Breakfast, lunch, drinks and a canapé reception will be provided on the day.
Programme:
9.30am
Registration and coffee
10am
Welcome and event overview: Current robots and emerging robotic applications with Prof Bryan Bridge (TWI and CLAWAR)
10.10am

Presentations including:

Robots for manufacturing with Dr Raphael Grech, MTC Coventry

Collaborative industrial robots with Satwik Mehta, HSSMI

10.50am
Break
11.20am

Presentations including:

NDT robot applications in hazardous environments with Prof Tariq Sattar, LSBU

Robots for nuclear applications with Dr Simon Watson, Manchester University

Robot Ethics with Dr Sarah Fletcher, Cranfield University

Service robots with Prof Gurvinder S Virk, CLAWAR and InnotecUK

1pm
Lunch and robot exhibition
2pm
Presentations including:

Medical robots with Luke Hares, Cambridge Medical Robotics

Users with disabilities interacting/controlling robots with Dr Peter O'Neill, Sheffield Hallam University

Robots in education with Dr Isabel Ferreira, Lisbon University Portugal
3pm
Refreshment break with robot demonstrations of research prototypes and company products
3.30pm
Robot videos
4pm

Panel discussion and Q&A exploring:

Are current robots important for society in the UK? If so, why?

What are the key areas for new robot applications?

What are the main barriers to the widespread adoption of robots?

Which areas are most important globally and for the UK?

Panel moderator: Osman Tokhi, LSBU

5.30pm
Close with Prof Gurvinder S Virk, CLAWAR
Top of page
Top of page