| | |
| --- | --- |
| Date: | 29 March 2018 |
| Time: | 09:00 - 19:00 |
| Location: | |
| Organiser: | Dr Elena Marchevska and Dan Barnard |
| Contact details: | e.marchevska@lsbu.ac.uk |
| Price: | £25 |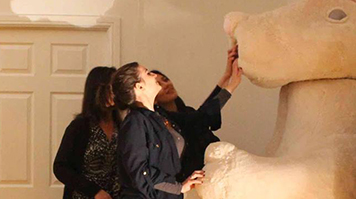 London South Bank University is hosting a symposium called critical care about audience in immersive, interactive and one-on-one performance. Perfect for performers
Critical Care is a symposium exploring three interweaving topics, linked by the theme of care, including:
1. How do we take care of our audiences in interactive, immersive and one-on-one performance? What steps can we take to ensure that we do this well and what are the examples of best practice that we can learn from? What is our duty of care and when, if ever, is it OK to betray the trust of our audiences?
2. How do theatre and performance makers negotiate care as a subject matter? In an ageing society in which the number of senior citizens has increased by 11% and in which 850,000 British people are currently living with dementia (with these figures are projected to rise to 1 million by 2025 and 2 million by 2050) how can we sensitively deal with topics such as ageing, dementia and illness within the performances that we create? How can we attempt to represent the experience of people who may struggle to articulate that experience themselves? Should we attempt to give audiences an experience of these things or is this an impossibility that renders any attempt futile and tokenistic?
3. How can we take care in the way that we critique, review and discuss immersive, interactive and one on one performance? These forms are inherently subjective, with each audience member potentially having a different and unique experience. As academics, critics and fellow artists, how can we acknowledge these factors whilst still engaging analytically with the work? How do we care for the makers and performers of something whilst maintaining a rigorous critique?
Critical Care departs from the traditional structure of symposia by placing performances at the heart of the day rather than as an add-on at the end. We hope that these will ground our discussions in an embodied experience that we can share, refer to and reflect upon. Out of Sight by fanSHEN is an immersive sensory performance about what it means to care for someone and be cared for. How does it feel to move forward through an obstacle course of memories, hopes and misunderstandings?
Remembering the Future by Carolyn Defrin, Paul Burgess and Levitt Bernstein architects is an installation combining architectural models and video mapping to express older peoples' memories of home and their perspectives on future housing.
Top of page
Top of page