| | |
| --- | --- |
| Date: | 21 March 2018 |
| Time: | 18:00 - 20:00 |
| Location: | |
| Organiser: | LSBU Events Office |
| Contact details: | 0800 923 8888, opendays@lsbu.ac.uk |
| Price: | Free |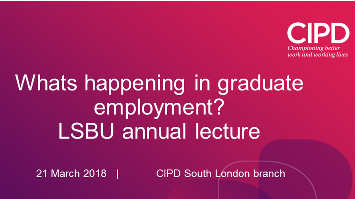 Join Samuel Gordon as he delivers an overview on the graduate employment market - what to expect, what's changing, and what's needed to succeed in the 21st century
This event has been specifically designed for CIPD and CMI members along with our postgraduate students from HR, marketing and business disciplines.
Making a success of graduate recruitment and retention will be essential for UK business as labour market shortages begin to bite. Sam Gordon from the Institute of Student Employers (ISE) will present some of the latest research findings on graduate employment at this joint CIPD, CMI and LSBU annual lecture and will share his views on how to make it a success.
It is imperative that issues which may arise during the transition of the graduate - from a university setting to that of an organisational employee - are fully understood; that the perspectives of graduates and employers are acknowledged; and that the needs and expectations of both parties are managed in a mutually beneficial manner which aids graduate retention as well as graduate recruitment.
This will not only help current and future graduates understand how to be successful at work, it will also provide important insights for managers, HR professionals and recruiters on what you can do to bring graduate talent into the workforce.
Sam delivers and communicates the ISE research programme in a clear and accessible way, making sure that findings are easy for members to act on. He joined the AGR in 2014, having previously founded a business to improve support for graduates, and holds an MSc from Oxford University.
Timings:
| | |
| --- | --- |
| 17:30 | Arrival and Registration |
| 18:00 | Welcome Address |
| 18:10 | Keynote Speech |
| 18:50 | Q&A |
| 19:10 | CMI and CIPD address the guests |
| 19:30 | Refreshments and Networking |
| 21:00 | Departure |
Top of page
Top of page