LSBU has four halls of residence offering comfortable self-catering, en suite and standard rooms
Included with residences
All residence fees are fully inclusive and cover the cost of hot water, heating and lighting. There are no hidden costs but be aware that for some residents the accommodation agreement may be longer than the academic teaching period. Insurance for basic possessions is also included. Further information on what is covered can be found at the Endsleigh Insurance website or contact our Accommodation Service. Call 020 7815 6417 or email accommodation@lsbu.ac.uk
What's not included
The University does not provide bed linen, towels, cooking utensils (pans etc), crockery or cutlery. Bring these with you, buy them from shops local to the University or purchase essential items through a company called UniKitOut. Their online shop has a variety of goods including 'essentials' packs with bedding, towels, crockery and cooking utensils delivered to your university accommodation before you arrive. Quote LSBU17 for a 10% discount on your purchases.
Below are the current letting periods for the 2017/18 academic year.
Accommodation letting periods 2017/2018

| Letting Period | UK, EU & International Start date | End Date |
| --- | --- | --- |
| 39 Week | Saturday 16 September 2017 | Sunday 17 June 2018 |
| 40 Week | Saturday 16 September 2017 | Sunday 24 June 2018 |
| 48 Week | Saturday 16 September 2017 | Sunday 19 August 2018 |
Residence fees
The first period residence fees are due on or before the commencement of the Accommodation Agreement and can be paid by credit or debit card or by bank transfer using the payment details provided.
If you have a Student Loan you will be required to make a minimum payment of six weeks residence fees on or before the commencement of the Accommodation Agreement with the balance due upon receipt of your Student Loan.
New for 2017/18
We are pleased to announce that we are now offering a limited number of Queen and Premium bedrooms. Queen bedrooms are larger rooms with a queen-sized bed and our premium rooms have been newly refurbished to a high standard and are available with standard or queen-size beds.
Assuring accommodation quality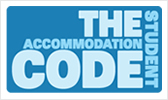 LSBU is a member of the Universities UK Code of Practice for University Managed Student Accommodation. All our residences are covered by this code, confirming our commitment to best practice in managing student accommodation. It protects our students' rights to safe, good quality accommodation, making sure they get the best out of the experience.
It outlines everything students can expect from our accommodation as well as their responsibilities as tenants. The Code raises accommodation standards and underpins our ongoing dedication to students. We are fully committed to providing a safe, comfortable living environment which helps support our students in leading a successful and enjoyable student life.
Top of page