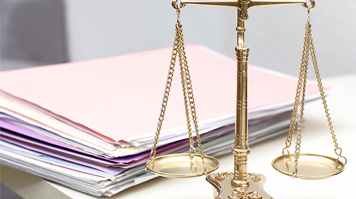 How one legal eagle has made the most of his time at LSBU, gaining brilliant hands-on experience and securing TWO prestigious scholarships along the way
Thomas Spencer took a year out after completing his Scottish Highers. While he was undertaking his research into universities, there were a few factors that made LSBU an attractive proposition.
"The fact that the lecturing staff are also practising legal professionals was very appealing," says Thomas. "The facilities are also of a very high quality, so those factors combined made me want to come here. I was delighted when I was offered a place on the Law LLB (Hons) course and I haven't looked back since!"
Applied nature
The practical, applied nature of the Law course is something that Thomas particularly appreciates, and he feels he has benefitted from the many opportunities that our students have to simulate a legal environment.
"I've taken part in mooting since my second year," says Thomas. "In the internal competition, I won through three rounds to reach the final. It was held in the Supreme Court and judged by Lord Kerr, a Supreme Court Justice. My team-mate and I won the competition, and I was named top scoring mooter, which was fantastic. I'm currently through to the second round of the Oxford University Press mooting competition as well – it's all fantastic experience."
Hands-on experience
Thomas' hands-on legal experience also benefitted from his involvement in the LSBU Street Law project. "We went to high schools and sixth form colleges in under-privileged areas," he says. "We helped the students prepare for a mock trial where they acted as barristers, witnesses, judges and so on. It was a fun way of showing them how exciting a legal career can be, and I've since met some students from Croydon who told me they applied to LSBU as a result."
The free iPad Law students are given has been a really useful resource. I've been able to download all my lecture slides in advance, and have access to them whenever I need them. The Virtual Learning Environment has been great too, because lecturers provide full copies of the learning materials as well as practice questions and articles.

Thomas Spencer
Scholarship awards
In his second year, Thomas received the National Scholarship Programme Award, which funded his tuition fees for that year. Since then, he has also secured a £20,000 scholarship from the Inner Temple following a rigorous selection process. "There were a number of rounds to winning the scholarship, including demonstrating my legal knowledge, showing dedication to joining the bar and practicing as a barrister, and even showing passion about the extra-curricular activities I take part in, such as being in a choir!"
Determined to succeed
As demonstrated by his success in securing his scholarship, Thomas is determined to succeed as a barrister and believes his time at LSBU has served as an excellent grounding. "The incredible experiences I have had here have provided me with qualities that are extremely desirable at the bar," he says. "The location is ideal, with all the major law firms and chambers on your doorstep as well as the Inner London Crown Court. I really think that studying at LSBU has given me a fantastic start to my career."
Watch our students discuss studying Law at LSBU.
Top of page