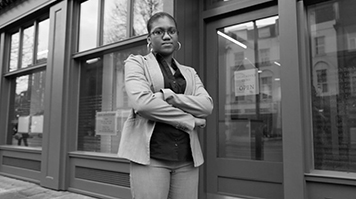 With ambitions to be a property developer, Sabrina hopes the transferable skills gained from a law degree at LSBU will help her business to flourish
Sabrina aims to make money from property, which will allow her to build a business that encourages those with challenging circumstances to put their best foot forward and achieve regardless.
Legal Advice Clinic
Sabrina is volunteering at the Legal Advice Clinic, which offers free legal advice to members of the general public. Students are supervised but are able to interview and advise clients, giving them valuable professional experience.
"The clinic is a generalist centre", explains Sabrina. "That means people come in with all kinds of issues, and we a re generally able to help everyone that comes through the door. If we aren't able to help them then we refer them to our evening clinic which is run by professional solicitors."
"It has been really good," says Sabrina. "The interaction with clients has been the best part - you know you are helping someone in need whilst learning valuable skills. You get to experience what it would be like in the day-to-day life of a solicitor, and you don't know what issues people are going to come in with, so that's been a big learning curve. I'd recommend anyone studying a law degree here to put an application forward to volunteer in the clinic."
Getting a free iPad was a real bonus as it means you can literally study anywhere.

Sabrina Smith
Working in the law
Law courses at LSBU include a 'Working in the law' module, which helps students develop transferable and practical skills in the context of career development. "Career opportunities at LSBU are really good," enthuses Sabrina. "The working in the law module gives you the chance to go on a placement, which could also be in the Legal Advice Clinic. If you're looking to find out what you can do then definitely take advantage of the clinic, the Working in the Maw module and getting on a placement."
Inspiring teaching
"The best thing about London South Bank University (LSBU) is the dedication of the lecturers. I can say that so far all of my lecturers have given me what is required and more to succeed when it comes to exams. We're able to ask questions and really understand topics so that when and if we do have to apply them practically it should make complete sense," she says.
Watch our video, featuring Sabrina, about what it's like to study Law at LSBU.
Top of page