Section Menu
Eric Bustamante, MSc Environmental and Architectural Acoustics, international student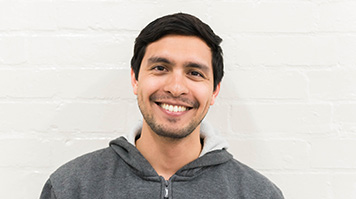 Originally from California, Eric came to London South Bank University via Houston where he worked as a mechanical engineer on drill equipment
As well as a qualified engineer Eric is a keen musician, playing the Saxophone, so acoustics allows him to combine his areas of interest and expertise.
"I'd been working as an engineer but looking at acoustics courses for a while. This one jumped out at me because of the location and the applied nature of the course."
Living in London
"There aren't too many places to do this course and being in London was very attractive to me. I've visited before and there's so much going on, I really enjoy it here. I can see the London Eye from my room too - that's pretty cool."
As an international student, Eric has been able to use the UK as base to explore Europe. London is well connected to all major European destinations and Eric's just come back from skiing in the Alps. There's also the economic factor to consider too.
"I have high hopes of getting a job in London. With the scale of development that's happening there's a demand for people trained in acoustics and I'd love to stay here."
The lecturers have been really supportive - they've been really helpful in trying to get us jobs. They're well connected to the industry and bring in guest speakers that we can network with.

Eric Bustamante
Practical experience
The MSc course has a practical focus, and this initially drew Eric to the course: "We spend a lot of time in the labs and it's basically work experience," he said.
"The course integrates theory with testing and experiments like those an acoustics consultant would need to carry out. We test properties of different materials for sound absorption and work on measuring echoes and vibrations."
Course highlight
Eric's dissertation topic is an applied study, experimenting with sustainable materials to solve an acoustics problem for University of the Arts London (UAL).
"The highlight of my course so far was giving a guest lecture at UAL to explain about acoustics and how important this is when designing a room," he said. "This came about because I'm working with them to modify a room they were having some sound issues with. They wanted to only use sustainable materials and make sure the end result was aesthetically pleasing so it was a tough brief."
Experiences like this can only make Eric more employable on graduation, and the project has helped him to put theory into practice, something he'll be expected to do on a day-to-day basis after graduation.
Read about the course Environmental and Architectural Acoustics MSc.
Top of page